Veteran politician Prof Ali Ashraf, MP, passes away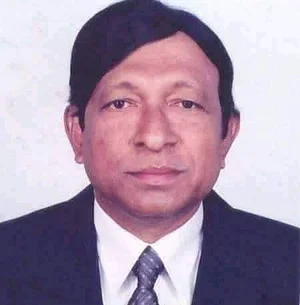 DHAKA, July 30, 2021 (BSS)- Professor Md Ali Ashraf, an Awami League lawmaker from Cumilla-7 constituency and former deputy speaker and valiant freedom fighter, passed away this afternoon while undergoing treatment at a private hospital in the city.

He was 74.

Ali Ashraf breathed his last around 3.30pm today in the city's Square Hospital, his personal assistant Jasim Uddin confirmed it.

He is survived by his wife, four daughters and a son, relatives and a host of well-wishers and admirers.

Ali Ashraf was suffering from different ailments including pneumonia, diabetes, high blood pressure, lung and gallbladder stone-related infections, said Jasim Uddin.

He was kept on life-support in the city's Square Hospital since July 23 as his condition deteriorated.

Earlier, he was admitted to the hospital in the first week of July with different complications including gallbladder stone-related infections and several days later he was shifted to intensive care unit (ICU) there on deterioration of his condition. He died at the hospital this afternoon.

His first namaz-e-janaza will be held at Gulshan Azad Mosque after Isha prayers today, family sources said.

The valiant freedom fighter will be laid to eternal rest at his village home in Chandina under Cumilla district.

Born in Gollai village under Chandina upazila on November 17 in 1947, Ali Ashraf graduated in economics and then completed his master's from University of Dhaka in 1967 and 1968 respectively. He stepped into politics by joining Bangladesh Chhatra League in 1962 when he was a student of Cumilla Victoria College.

He contested the parliamentary election in 1970 as an independent candidate but could not win. He was elected as the youngest lawmaker in the country's first parliamentary elections in 1973 from Cumilla-11 constituency. Later, he was elected MP from Cumilla-7 in 1996, 2008, 2014 and 2018 general elections. Ali Ashraf was elected lawmaker for five times.


Ashraf served as deputy speaker of the 7th Jatiya Sangsad in 2001. He was serving as the chairman of the Parliamentary Standing Committee on Government Assurances of the 11th Parliament.

He was finance and planning affairs secretary of Awami League Central Working Committee and also served as president of Cumilla North District unit of AL.

He was also involved in teaching profession at different colleges and was appointed as director of the Mujibnagar government's foreign ministry in 1971.