Safe habitat for tigers in Sundarbans will be ensured: Deputy Minister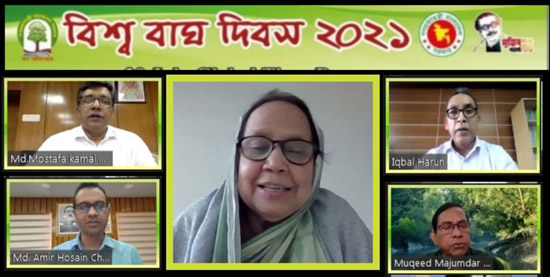 DHAKA, July 29, 2021 (BSS) - Deputy Minister for Environment, Forest and Climate Change Begum Habibun Nahar today said the present government is committed to conserving the Royal Bengal Tigers in the Surdarbans.
"All necessary steps will be taken to ensure safe habitat for the protector of Sundarbans. In this case, people have to stop entering the Sundarbans," she said.
The Deputy Minister for Environment said this while addressing a webinar organized by the Forest Department on the occasion of International Tiger Day-2021 on the theme "Tiger saves Sundarbans, Sundarbans saves millions of lives".
She said the number of tigers in the Sundarbans has increased due to less human encroachment during the COVID-19 pandemic period, a ministry press release said.
Habinun Nahar said, the world heritage site Sundarbans and the national animal tiger will not be allowed to disappear in any way due to man-made disasters.
In her speech, she mentioned various initiatives of the government taken for the conservation of tigers.
The deputy minister said the protected area in the Sundarbans for tiger conservation would be further increased.
"Smart patrolling" is being conducted in the Sundarbans with the help of GPS to prevent tiger poaching, she said.
The Forest Department is using drones to conduct monitoring activities to protect forests and wildlife in the Sundarbans.
Habibun Nahar said necessary number of freshwater ponds have been dug for drinking water of wildlife.
The government is working to double the current 114 tigers in the Sundarbans, she said, adding that steps would be taken to raise public awareness to involve concerned people in tiger conservation.
Secretary of the Ministry of Environment, Forest and Climate Change Md Mostafa Kamal, Additional Secretary Iqbal Abdullah Harun and Chairman of Nature and Life Foundation Muqeed Majumder Babu were present as special guests at the webinar presided over by the Chief Conservator of Forests Md. Amir Hossain Chowdhury.
Among others, Deputy Chief Conservator of Forests Md Jahidul Kabir, Professor of Zoology Department of Jahangirnagar University Mohammed Mostafa Feeroz, Forest Conservator Mollah Rezaul Karim and Divisional Forest Officer Dr Abu Naser Mohsin Hossain spoke on the occasion.