Govt working to develop sustainable irrigation system: Razzaque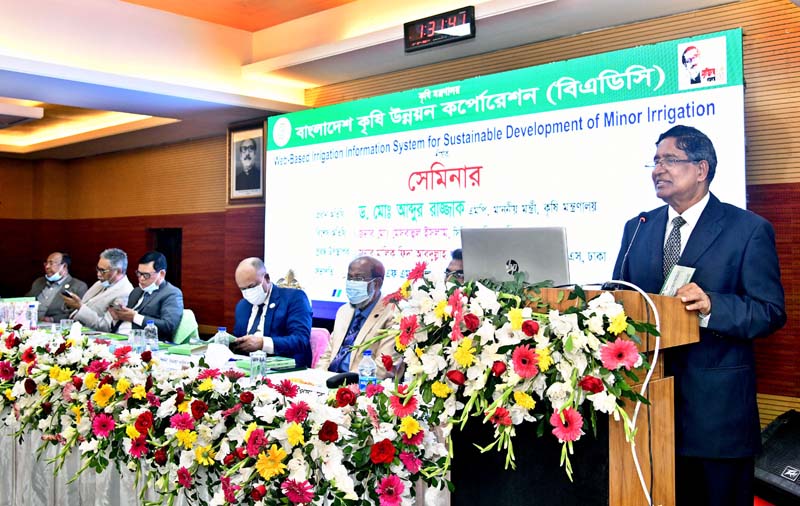 DHAKA, Dec 2, 2021 (BSS) – Agriculture Minister Dr Md Abdur Razzaque today said the government has put special emphasis on developing sustainable irrigation system and utilization of water resource in the country.
He was addressing as the chief guest a seminar titled "Online survey for sustainable development of micro-irrigation" at Bangladesh Agriculture Development Corporation (BADC) auditorium in the city's Manik Miah Avenue.
Razzaque said the government has taken different initiatives for modernizing irrigation system over the last 12 years.
That's why Bangladesh attained unprecedented success in irrigation system including expansion of irrigation facilities, enhancement of irrigation skills, installation of underground pipeline for stopping water wastage, enhancing use of surface water, he added.
Terming water as invaluable asset, the minister said irrigation is very important for ensuring food security and enhancing crop productivity.
But water is wasted in various ways in farming especially in irrigation and this should be reduced, he said.
The government is laying importance on using modern rubber or hydraulic elevator dam and establishing of different types of irrigation infrastructures, installing underground pipeline, using water-efficient irrigation system and renewable energy and creating surface level water reservoir, he said.
Agriculture Ministry's Senior Secretary Md Mesbahul Islam addressed the seminar as the special guest while BADC Chairman AFM Hayatullah chaired it.
Agricultural Extension Department former Director General Md Hamidur Rahman, BRAC University Centre for Climate Change and Environmental Research Adviser Prof Dr Ainun Nishat, Center for Environmental and Geographic Information Services (CEGIS) Executive Director Malik Fida Abdullah Khan and BADC Member Director (Mirco Irrigation) Engineer Md Ziaul Haque spoke, among others.