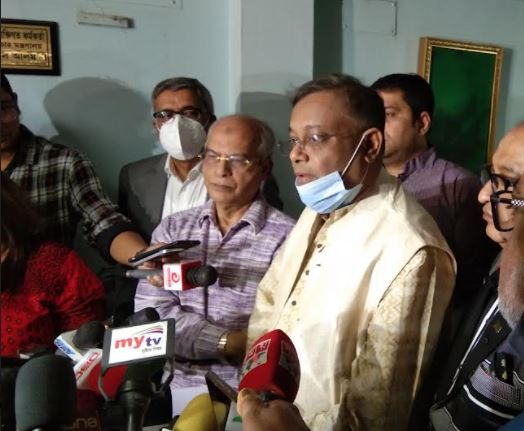 DHAKA, Dec 2, 2021 (BSS) - The representatives of Association of Television Channel Owners (ATCO), an organization of the country's private TV channel owners, today met with Information and Broadcasting Minister Dr Hasan Mahmud at his Secretariat office here.
ATCO senior vice president Iqbal Sobhan Chowdhury, vice president Arif Hasan, directors Ahmed Jobaiyer, Abdul Haque, Kazi Jahedul Hasan and Ashfaq Uddin and member Nasir Uddin joined the meeting.
After the meeting, Hasan said elaborate discussions were held with the ATCO leaders. "ATCO presented some issues, of those, one is that the country's mobile phone companies are running OTT (over the top) platforms without license and creating contents, publishing those at online and earning from the contents violating the terms of their license," he added.
The minister said his ministry will monitor it along with Telecommunication Division, BTRC and mobile phone operators. Steps would be taken, if they do it illegally, he added.
Hasan, also Awami League joint general secretary, said the ATCO has also raised question whether there is necessary to give registration to IPTV.
"IPTV is the reality of the globe. But I personally think that it should not be proper like frog's umbrella of IPTV. We have already provided registration to 14 IPTVs. The policy related to IPTV has passed in the cabinet. It was mentioned in the policy that the IPTV would not able to telecast news and through cable, we want to move forward over IPTV very carefully," he added.
Iqbal Sobhan Chowdhury said a vast revolution has been taken place in mass media by the prime minister. The information ministry under the directives of media-friendly Information and Broadcasting Minister Dr Hasan Mahmud has taken a number of steps for expanding the industry.
He said about 34 TV channels are on air and provided free flow news and programmes under the directives of the premier.