Govt to take master plan for utilizing internal water sources: Tazul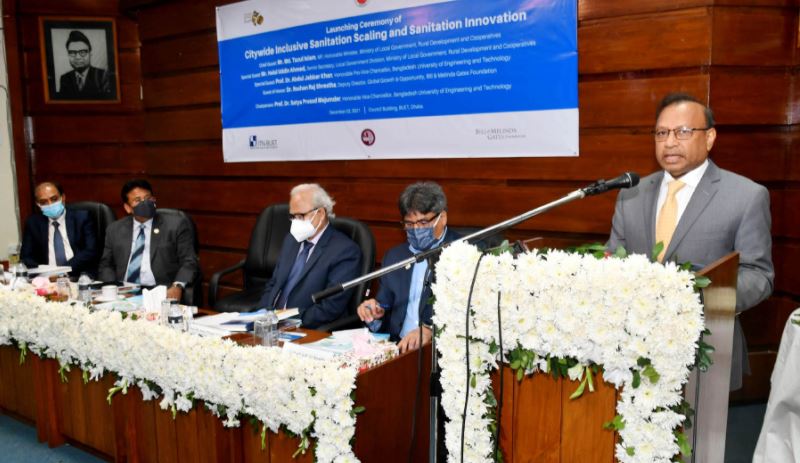 DHAKA, Dec 2, 2021 (BSS) - Local Government, Rural Development, and
Cooperatives (LGRD) Minister Md Tazul Islam today said the government is
taking up long-term plan for utilizing internal water sources for removing
the scarcity of drinking water.
"Survey work is going on for the formulation of the master plan to set up
water grid line for supplying pure drinking water across the country
including the coastal region," he said.
Tazul was addressing a function arranged by ITN-BUET titled "expansion of
inclusive sanitation across the city and innovation of sanitation" at Council
Bhaban of Bangladesh University of Engineering and Technology (BUET) here.
He said the government has different initiatives for ensuring advanced
lifestyle for people including ensuring of water and sanitation facilities.
To build a developed and prosperous country by 2041, many pre-requisites
of the United Nations should be filled-up side by side with economic uplift,
he mentioned.
The minister said economic zones are being established in the country
where there would be many factories and industries and huge water will be
needed.
If required measures are not taken now, there will be crisis of water in
future, he added.
Mentioning that Chattogram WASA is going to set up a new water treatment
plant, Tazul said Dhaka WASA and other WASA set up many water treatment
plants for removing the water crisis in the country.
Besides, Public Health Engineering Department is working relentlessly for
ensuring water and sanitation facilities for marginal people, he said.
Noting that new door has been open for generating power from waste in the
country, he said all types of wastes including household and medical wastes
should be dumped in specified places and everyone should be conscious about
conservation of environment.
Tazul said many houses in Dhaka city don't have own septic tank and they
connect sewerage line directly with lake or canal.
Campaign should be conducted to make people aware to this end, he said.
The minister said actions would be taken if the house owner don't build
own septic tank within fixed time.
BUET Vice-Chancellor (VC) Professor Dr Satya Prasad Majumder chaired
function while Local Government Division Senior Secretary Helaluddin Ahmed
and BUET Pro-Vice Chancellor Prof Abdul Jabbar Khan were present as special
guests.
LGED Chief Engineer Md Abdur Rashid Khan, Public Health Engineering
Department Chief Engineer Md Saifur Rahman and Dhaka WASA Managing Director
Taksim A Khan were present among others.