PMO Secretary visits Asrayan project in Taraganj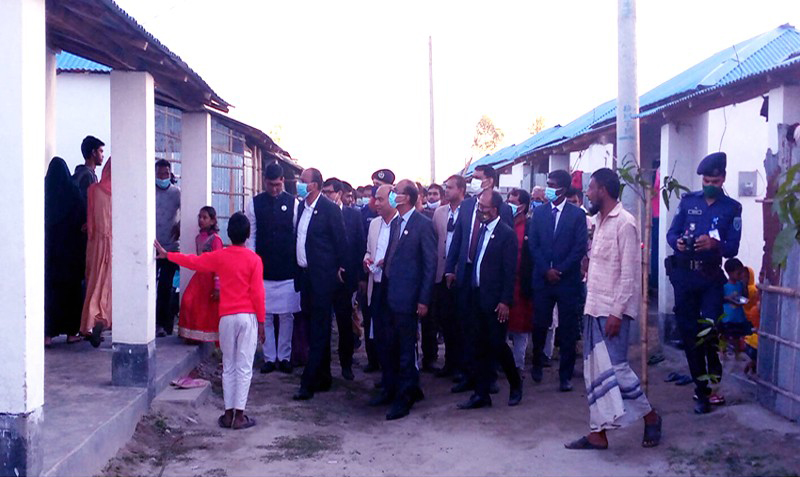 RANGPUR, Dec 2, 2021 (BSS) - Secretary of the Prime Minister's Office
(PMO) Md Tofazzel Hossain Miah visited the Faridabad Asrayan project in Soyar
union of Taraganj upazila here on Wednesday afternoon.
During the visit, he inspected several houses at the Asrayan project,
talked to the rehabilitated inhabitants there and expressed satisfaction.
He instructed Taraganj Upazila Nirbahi Officer (UNO) to prepare a list of
other homeless people in the upazila and send it to the PMO for necessary
arrangements so that everyone received a house as gift from the Prime
Minister in the Mujib Year.
He said projects are being undertaken through Bangladesh Rural Development
Board (BRDB), Departments of Social Services and Cooperatives, Women and
Children Affairs and Fisheries to make the rehabilitated people self-reliant
at the Asrayan project.
There is a Dighee (water body) at Faridabad Asrayan project and steps will
be taken for fish farming there to provide livelihoods to the rehabilitated
beneficiaries living there.
"The rehabilitated beneficiaries at the Asrayan project will be provided
training on income generating and capacity building activities and easy-term
loan assistance will be provided as per their need based on their skills," he
said.
Earlier, Prime Minister Sheikh Hasina gifted the houses to the landless and
homeless families for their rehabilitation at Faridabad Asrayan project under
the second phase of Asrayan-2 project in the Mujib Year.
Director General (Administration) at the PMO Ahsan Kibria Siddiqui, Private
Secretary to the PMO Kaysarul Islam, Rangpur Divisional Commissioner Md.
Abdul Wahhab Bhuiyan, Deputy Commissioner Md. Asib Ahsan, Taraganj Upazila
Awami League President Alhaj Atiyar Rahman, Upazila Parishad Chairman Anisur
Rahman, UNO Md. Aminul Islam, Upazila Parishad Vice-chairman Golam Chhaidel
Kawnain, Female Vice-chairman Sabina Yasmeen and newly elected Chairman of
Soyar union parishad Al Ebadat Hossain Pilot were present.