AIDS patients getting free treatment facilities: Maleque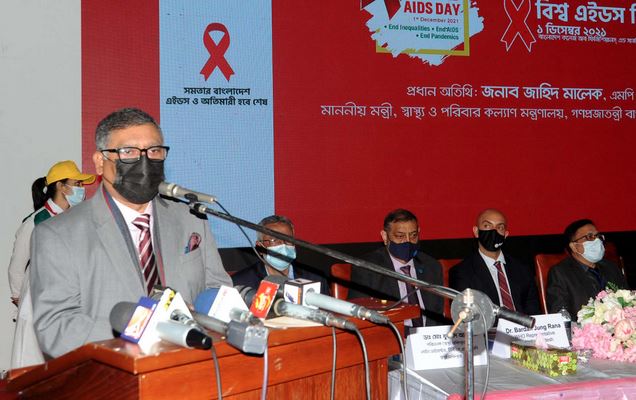 DHAKA, Dec 1, 2021 (BSS) - Health and Family Welfare Minister Zahid Maleque today said all AIDS patients are getting free treatment facilities at 11 public hospitals in the country.
"Like other diseases, the government is providing free treatment facilities for AIDS patients," he told a discussion at Bangladesh College of Physicians and Surgeons (BCPS) marking World AIDS Day-2021, an official release said.
The Directorate General of Health Services (DGHS) organized the discussion. The theme of this year's World AIDS Day 2021 is "End Inequalities. End AIDS. End Pandemics."
Secretary of Health Services Division Lokman Hossain Main, WHO Representative Dr Bardan Jung Rana and representatives of different relevant organizations, among others, addressed the discussion with Director General of Directorate General of Health Services(DGHS) Prof Dr Abul Bashar Mohammad Khurshid Alam in the chair.
Maleque said the government is providing healthcare facilities to the people with AIDS positive cases during the COVID-19 pandemic. "We will take initiative for expanding AIDS treatment facilities at all medical government-run hospitals," he added.
The health ministry sources said, in Bangladesh, first AIDS positive case was detected in 1989.
Infection rate of AIDS is less than 0.01 percent, it also said.