National Prof Rafiqul Islam laid to eternal rest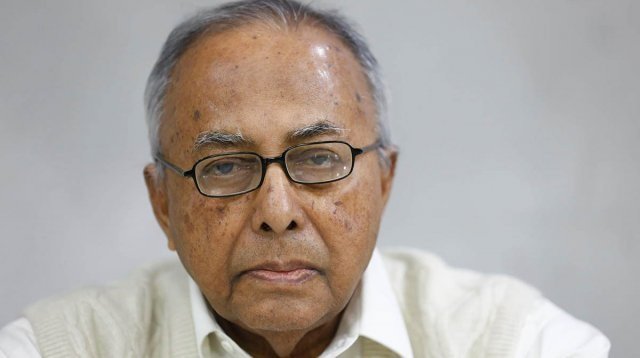 DHAKA, Dec 1, 2021 (BSS) – National Professor, scholar and cultural personality Dr Md Rafiqul Islam was laid to his eternal rest at the Azimpur graveyard here a day after he breathed his last at a city hospital.
Ekushey Padak and Independence Award recipient Professor breathed his last on Tuesday at the city's Evercare Hospital around 2.30pm where he was undergoing treatment with multiple complications.
The body of the professor was taken to Azimpur graveyard where was buried around 4:30 pm after his second namaj-e-janaza at Dhaka University's central mosque after Asar prayers.
Meanwhile, people from all walks of life paid their last tributes to national professor Dr Md Rafiqul Islam at the central Shaheed Minar today by placing wreaths.
His body was taken to the Central Shaheed Minar around 2pm and was kept in there till 3:30 pm for the people to pay their last respects.
Sammiloto Sanskritik Jote arranged the programme.
Floral wreaths have been placed by representatives of behalf of President M Abdul Hamid and Prime Minister Sheikh Hasina.
Road Transport and Bridges Minister Obaidul Quader, Foreign Minister Ak Abdul Momen, Information and Broadcasting Minister Dr Hasan Mahmud and Education Minister Dr Dipu Moni Vice Chancellor of Dhaka University Dr Md Akhtaruzzaman, Dhaka North City Corporation Mayor Atiqul Islam, and Dhaka South City Corporation Mayor Sheikh Fazle Noor Taposh pay tribute to the professor by placing wreaths at his coffin.
Earlier, his body was also taken to Bangla Academy premises around 1pm today and was kept there for one-hour to let his collogues, staff and the people pay their last tribute to the professor.
Cultural Secretary Md Abul Mansur on behalf of the Ministry of Culture and Director General of Bangla Academy Md Nurul Huda on behalf of Bangla Academy placed wreath at the coffin of Dr Rafiqul Islam.
Besides, Kobi Kazi Nazrul Institute, Shaluk, Bangabandhu Foundation, Shadhinota Foundation, Father of the Nation Bangabandhu Sheikh Mujibur Rahman's Birth Centenary Celebration National Implementation Committee also paid rich tribute to the professor.
Later, Commerce Minister Tipu Munshi and lawmaker Asaduzzaman Noor were also present at his namaj-e-janaza at DU's central mosque.
He was President of Father of the Nation Bangabandhu Sheikh Mujibur Rahman's Birth Centenary Celebration National Implementation Committee. He was also the current President of Bangla Academy.
Earlier, on October 7, Rafiqul Islam was admitted to BSMMU Hospital with abdominal pain. After the examination, the doctors confirmed that water had accumulated in his lungs, which was extracted.
Professor Rafiqul Islam started his glorious career in Dhaka University in 1957 and taught Bengali and linguistics there till 1958 and then from 1961 to 2004 as senior lecturer, assistant professor, associate professor and professor.
Inducted as a National Professor in 2018, Prof Dr Rafiqul Islam later became head of the Bangla department in Dhaka University.
Later, he became the Vice Chancellor (2007-2011) of the University of Liberal Arts Bangladesh (ULAB).
One of the most respected Nazrul researchers in the world, Rafiqul Islam was the first Nazrul Professor at the Bangla department of Dhaka University and the first director of the Nazrul Research Centre.
Rafiqul Islam actively participated in the Language Movement in 1952. He also captured rare photographs of that time and portrayed that history in his writings. He wrote about 30 books, including the first book on martyred intellectuals and the first book on the centenary history of Dhaka University.
Professor Dr Rafiqul Islam has received Independence Award (2012), Ekushey Padak (2001), Bangla Academy Literary Award (1994) and International Mother Language Award for his excellence in the field of academia and culture.
The government appointed him as the president of Bangla Academy in May 2021 for three years.