Govt is prepared to deal with Omicron: Kamal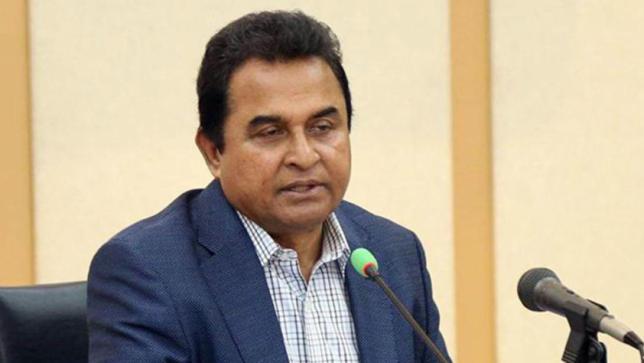 DHAKA, Dec 1, 2021 (BSS) - Finance Minister AHM Mustafa Kamal today said that the government is always prepared to face any kind of disastrous situation even if the new COVID-19 variant Omicron hits the country.
"We're yet to get infected by Omicron .....Hopefully such variant (Omicron) will not hit our country....I believe that it won't affect our country," he said.
The Finance Minister was replying to a volley of questions after chairing virtually two separate meetings on the Cabinet Committee on Economic Affairs (CCEA) and the Cabinet Committee on Government Purchase (CCGP).
Kamal said even if such variant comes in Bangladesh, then the government is always prepared to face it taking alongside the countrymen.
He said that Bangladesh is yet to detect any such case of Omicron while the government had earlier successfully tackled the COVID-1 situation taking beside the whole of the country's people.
The Finance Minister said that during the COVID-19 pandemic, the government has taken steps whatever necessary to keep up the momentum in the economic fronts while the affected communities got necessary support.
When asked whether the government would consider lowering the fuel price following downtrend in the global market, he said that the fuel price market is still in the flexible stage and it is yet to reach a stable position.
Citing an example that the fuel price often witnesses an increase of $20 while then suffers a fall of $20, Kamal said that the concerned Ministry and the State Minister would take steps accordingly when the fuel oil price comes to a stable condition.
Replying to another question about the government's steps against the alleged money launderers, he said that he had sought specific information about the money launderers for several times and subsequently steps have been taken.
The Finance Minister said that following media reports, the Bangladesh Bank and the concerned agencies are working to ensure that the culprits are brought to book and get punished.
Kamal also said that he would face the media one day and thus reveal in details about the money launderers and what kind of steps have been taken against them.
"I personally can take no action against the money launders and I've no mechanism of my own. The judiciary and the concerned agencies will take action against them......the government is taking steps whatever is needed in this regard."
The Finance Minister said that those who are committing corruption are being punished and thus serving term behind the bars.