Hefajat secretary general Nurul Islam Jihadi dies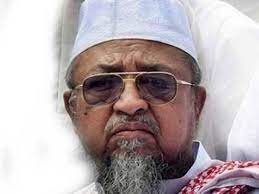 DHAKA, Nov 29, 2021 (BSS) - Hefazat-e-Islam Secretary General Nurul Islam
Jihadi passed away today while undergoing treatment in a city hospital.
He was 73.
His namaz-e-janaza will be held at Baitul Mukarram National Mosque here
after Isha prayers, a press release said.
Amir of Islami Andolan Bangladesh Mufti Syed Muhammad Rezaul Karim, also
known by his title Charmonai Pir, expressed profound shock and sorrow at the
death of Jihadi.
In a condolence message, Rezaul Karim prayed for eternal peace of the
departed soul and conveyed deep sympathy to the bereaved family.