1st Bangladesh-Maldives bilateral consultations held in Male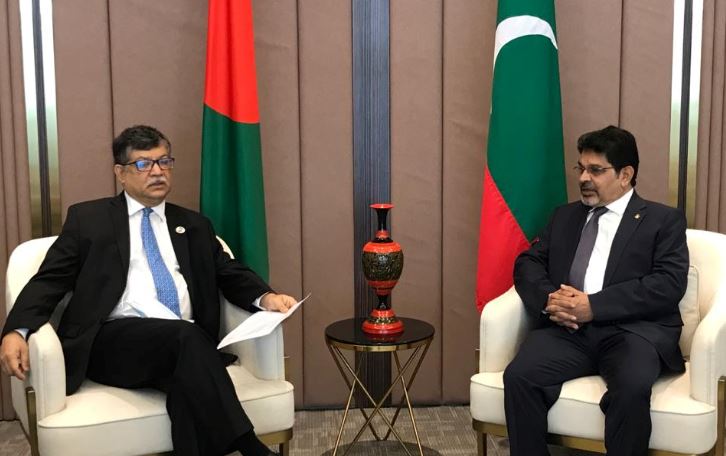 DHAKA, Nov 27, 2021 (BSS) – The first ever bilateral consultations between Bangladesh and Maldives took place today at the Maldivian capital Male emphasizing on further deepening cooperation between the two South Asian nations in a number of potential sectors.
Bangladesh foreign secretary Masud Bin Momen and his Maldivian counterpart Abdul Ghafoor led their respective delegations on behalf of their countries, a foreign ministry press release said.
During the consultation meeting, both the sides discussed entire spectrum of the ties and conclusion of a few bilateral instruments for further collaboration between the two countries.
They also discussed on the bilateral issues related to trade and connectivity, protection of migrant workers, human resource development, agriculture, fisheries, cultural exchange program , climate change, protection of environment and tourism for enhancing people to people to contact.
Masud reiterated that Bangladesh attaches high importance to promoting relations with neighboring countries following the foreign policy of Prime Minister Sheikh Hasina.
Bangladesh Foreign Secretary noted that Bangladesh under the dynamic leadership of Prime Minister Sheikh Hasina has achieved remarkable success in the socio-economic development while the country has developed many institutions for capacity building of youth, medical education, skill development, vocational training, and nurse training.
Maldivian foreign secretary sought support from Bangladesh for recruitment of skilled human resource, including recruitment of specialized doctors and nurses.
He also sought assistance from Bangladesh for specialized courses in higher education, especially in medical education.
Ghafoor congratulated the Bangladesh government on the graduation from LDC and thanked Dhaka for linking Maldives to the epochal celebrations of the Birth Centenary of the Father of the Nation Bangabandhu Sheikh Mujibur Rahman and Golden Jubilee of Bangladesh's Independence by hosting the President of Maldives in Dhaka in March 2021.
He also expressed gratitude for extending generous support to Maldives on several occasions during the COVID-19 pandemic and thanked the Bangladesh foreign secretary for arranging a successful visit for their Vice President Faisal Naseem last week.
Earlier in the day, the Bangladesh foreign secretary met Maldivian State Minister for Foreign Affairs Ahmed Khaleel.
During the meeting, they reiterated their commitment to work together in regional and multilateral forums, especially on issues of climate change and regional security.
Maldivian state minister assured Bangladesh of extending their support in an early solution of Rohingya crisis through repatriation of Rohingyas to their country of origin.
The Bangladesh foreign secretary arrived in Male yesterday on a two-day visit and is expected to meet a few Maldivian ministers and the Vice President.
He is also expected to meet some the Bangladeshi expatriate community in Male.