SSC exams begin across country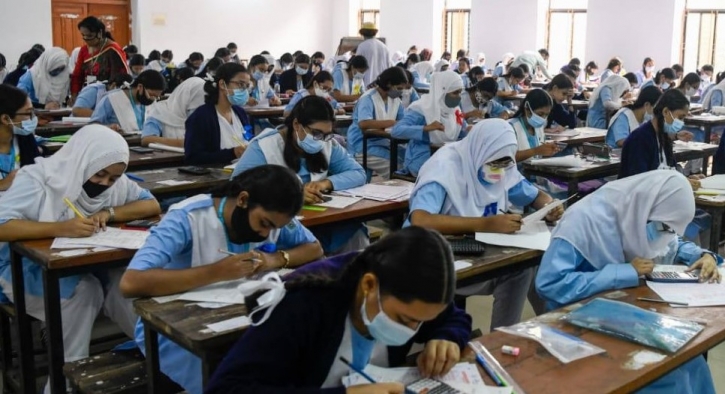 DHAKA, Nov 14, 2021 (BSS) - The Secondary School Certificate (SSC) and its equivalent examinations under 11 education boards began today across the country.

This year's exams began with physics subject while the duration of the exam was from 10 am to 11:.30 am.

The exams are being held in three subjects with revised and short syllabus and those will continued till November 23.

On the first day of the examination in Dhaka Board, some 1 lakh 27 thousand 923 students took part in the examination at 423 centers while the number of registered candidates was 1 lakh 28 thousand 807.

Some 28,143 students out of 28,337 were present at 204 centers under Chattogram Education Board. A total of 194 candidates were absent in this board.
In Barishal division, the number of participating candidates was about 23 thousand 445 students while 172 were absent.

The total number of candidates in Sylhet is 19,873 and the number of participating candidates is 19,725. Some 148 were absent in this board.

The total number of candidates in Dinajpur is 77,912. Of them, 77,315 candidates participated while 597 were absent and one was expelled.

Out of 2 lakh 69 thousand 371 students in Madrasah Education Board, about 2 lakh 59 thousand 477 students took part in the examination.

Apart from Bangladesh, some 429 candidates are taking part in Jeddah, Riyadh, Tripoli, Doha, Abu Dhabi, Dubai, Bahrain, Saham and Athens.

Education Minister Dr Dipu Moni inspected the exam centre of Motijheel Government Boys High School here today.

Deputy Minister for Education Barrister Mohibul Hasan Chowdhury Nowfel, Directorate of Secondary and Higher Education Director General Professor Dr Syed Golam Faruk and chairman of the Dhaka Education Board and chairman of the Inter-Education Board Coordination Subcommittee Nehal Ahmed were also present, among others, on the occasion.

Dipu Moni urged all guardians not to pay any heed to rumors about question paper leakage of this year's SSC and equivalent examinations.

As the examination is going on by maintaining proper health guidelines across the country, the minister urged all, including the guardians, not to make crowd outside amid the pandemic.