Despite corona pandemic, no food crisis happens in country: Dr Razzaque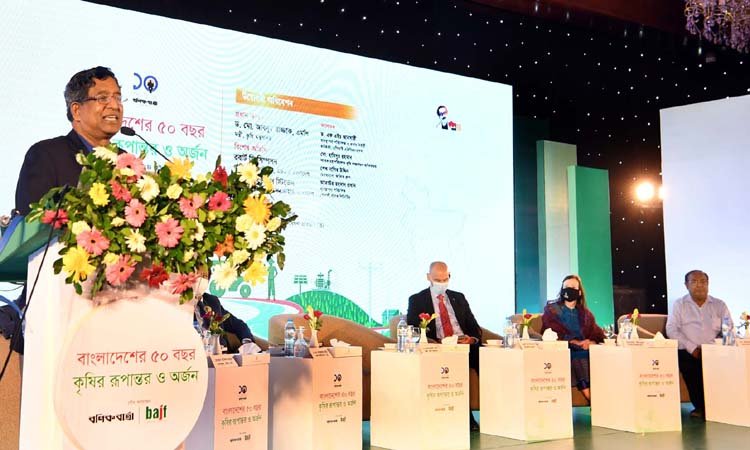 DHAKA, Oct 24, 2021 (BSS) – Agriculture Minister Dr M Abdur Razzaque today said despite corona pandemic gripped the country, but none was left starved and the country did not face food crisis.
"Bangladesh is today self-sufficient in food and the country had not faced food scarcity due to the time befitting initiative launched by the government," he said while inaugurating agriculture conference titled ' 50 years of Bangladesh :Agriculture transformation and achievement held at Hotel Sonargaon here.
The country has achieved tremendous success in food production and agriculture as the fertile land and water are great blessing for the people of the country, the minister told the conference.
Bangladesh Agriculture Journalists Forum (BAJF) and Banik Barta jointly organized the function.
Now country's topmost challenge is to make nutritious and safe food available for all people, he said, adding "We have to increase production of milk, meat, egg and fruits aiming to meet people's nutritional demand instead of excess rice consumption."
At present, country's 75 per cent land is being used for rice production as per capita rice consumption is nearly 400 grams which is only 200 grams for people in different countries in the world.
"If we can reduce our rice consumption significantly then it would be possible to keep food production at sustainable range through increasing production of other cereal food crops on the paddy field," he added.
Moderated by Dainik Banik Barta Editor Dewan Hanif Mahmud, the programme also was attended, among others, by USID Bangladesh Mission Director Kathrine Devis Stivense, FAO Country Representative in Bangladesh Robert D Simpson, former Director General of the Department of Agricultural Extension (DAE) M Hamidur Rahman, ACI Agri-business Managing Director and Chief Executive (CO) Dr FH Ansary and Akij Group Chairman Sheikh Nasir Uddin.