Bangladesh moving forward maintaining communal harmony: Enamur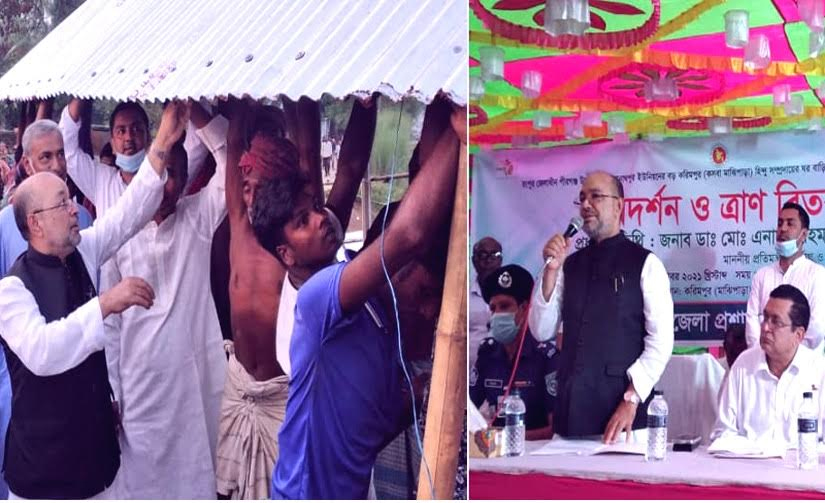 RANGPUR, Oct 21, 2021 (BSS) - State Minister for the Ministry of Disaster Management and Relief Dr Md Enamur Rahman today said Bangladesh is moving forward establishing a dazzling example of communal harmony.
"In the last 12 years, the capacity of our law enforcement and security agencies has increased a lot. The capabilities of our intelligence agencies like NSI, DGFI, DSB, SB, DB, Counter Terrorism, RAB and BGB have largely increased," he said.
Enamur made the observation while talking to reporters after inspecting the site of arson attack, vandalism and looting of houses of the Hindu community in Kasba Majhipara village in Pirganj upazila of Rangpur today.
The Minister also inspected the reconstruction and reaping works of damaged houses of the Hindu community, distributed dry foods, saree, lungi and blankets among the affected Hindu families and addressed a rally in the village.
He said "We will not admit the weakness of our government or administration. In such a large state, the total terrains can be equally guarded all the time."
"There is a legal system in the country, there is a law. The state runs according to that legal system. So, there is no question of the weakness of our government or administration," he said.
If anyone finds a weakness anywhere and causes harm, that person will be brought to justice under the provisions of the state law of the country.
"Prime Minister Sheikh Hasina is working round the clock for the welfare of every human being in response to the BNP's allegations. She is working to make the country's head, reputation and prestige high in the global arena," he said.
"Today, Bangladesh has become a developing state through the relentless efforts of Prime Minister Sheikh Hasina," he said.
In response to a question, the State Minister said, why the Prime Minister? Even a common citizen of the country understands that the image of a country will be damaged if the communal harmony ruins in the society.
Externally, the country will be hated. External cooperation will decrease.
"Therefore, why would the Bangladesh government led by Awami League axe on its own feet?," he asked.
"The critics know that Bangladesh is moving forward by maintaining communal harmony. Such incidents happened many times. But no one has been able to become benefitted from those heinous activities," he said.
Secretary of the Ministry of Disaster Management and Relief Md Mohsin, Deputy Commissioner of Rangpur Md Asib Ahsan, Pirganj Upazila Nirbahi Officer Biroda Rani Roy, General Secretary of Pirganj Upazila Awami League and Municipal Mayor Tazimul Islam Shamim were present at the time.