AL for eliminating militant, fundamentalist forces: Hanif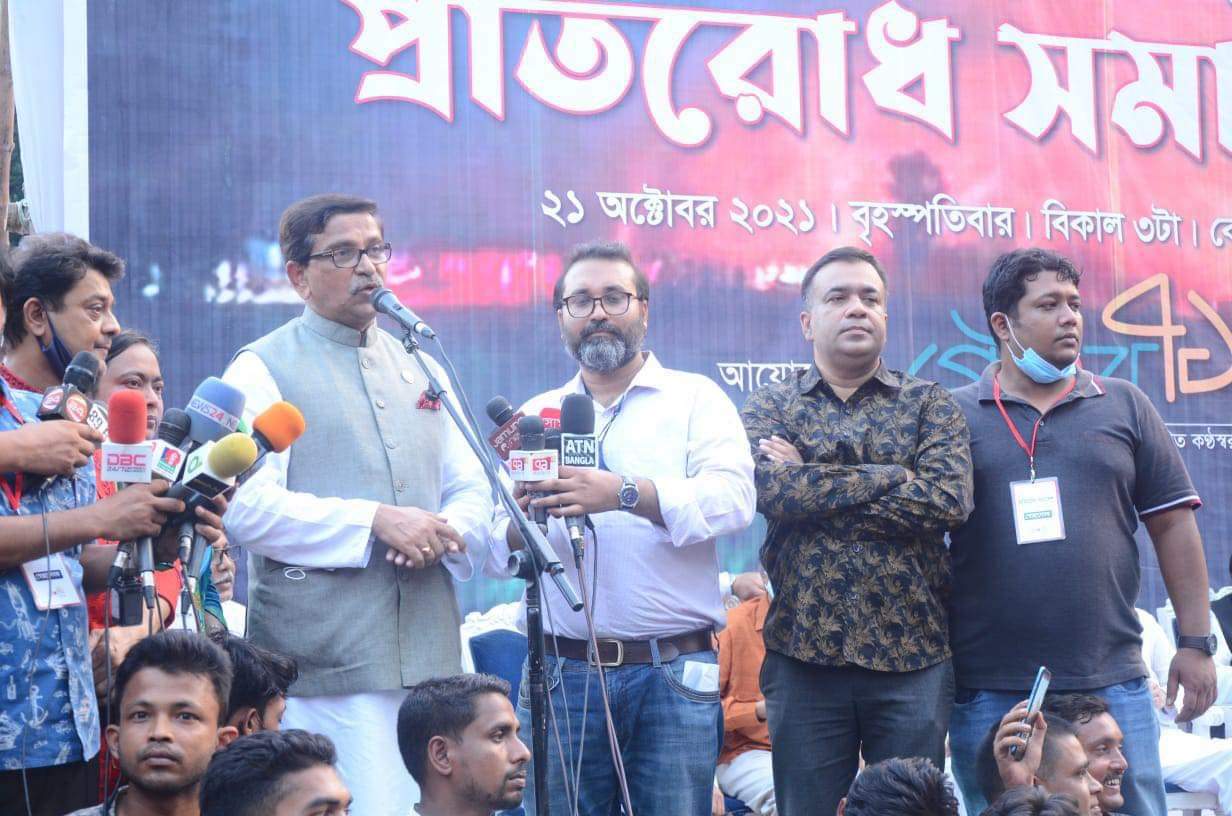 DHAKA, Oct 21, 2021 (BSS) - Awami League Joint-General Secretary Mahbubul-Alam Hanif, MP, today said his party is working to eliminate fanatic, militant and fundamentalist forces from the country.
"We have a thousand-year old culture. We have jatra, palagan, jari-sari, polli giti. It is a matter of sorrow that we are losing our folk culture. A section of the society is becoming fanatic. Bangladesh Awami League is working to eliminate these fanatics, militant and fundamentalist forces from the country," he said.
He was addressing a rally, as chief guest, at Central Shaheed Minar to resist attacks on temples, idols and properties belonging to people from Hindu community in the country.
Organized by Gourob '71, a pro-liberation platform, the rally was also addressed by Dhaka University Pro-Vice Chancellor Dr Mohammad Samad, Dhaka South city unit Awami League president Abu Ahmed Mannafi, Natore district Awami League president Abdul Quddus, MP, former lawmaker Adv Sanjida Khanam, Selim Altaf George, MP, among others.
Terming BNP founder Ziaur Rahman as the ghost of Pakistan, Mahbubul-Alam Hanif said he planted the seed of communalism by grabbing power after killing Father of the Nation Bangabandhu Sheikh Mujibur Rahman along with most of his family members.
"It is Ziaur Rahman, who had given opportunity first to Jamaat-e-Islami to do politics in Bangladesh. He had allowed notorious war criminal Ghulam Azam to return to Bangladesh and do politics. His wife Khaleda Zia continued his legacy," he added.
Dhaka University Pro-Vice Chancellor Dr Mohammad Samad in his speech said Bangabandhu worked relentlessly to protect both Muslim and Hindu communities during 1946 communal violence.
"Bangabandhu worked throughout his life to build a non-communal country. Bangamata Sheikh Fazilatunnesa Mujib used to cook food for people of all communities," he further said.
Presided over by Gourob '71 president SM Monirul Islam Moni, the rally was conducted by its general secretary FM Shahin.
Bangladesh Awami Jubo Mohila League vice-president Adv Koheli Quddus Mukti, Dhaka South city unit Awami League vice-president Nurul Amin Ruhul, MP, office secretary Riaj Uddin Riaj, cultural affairs secretary Abdul Motin, Prof Dr Mamun-Al-Mahtab Shwapnil, Dr Shahdat Hossain Nipu and bbarta24.net editor Bani Yasmin Hasi were present at the rally, among others.
A procession was brought out after the rally that ended at Dhaka University Raju Memorial Sculpture.