Govt. to punish arsonists involved in Pirganj violence: Hasan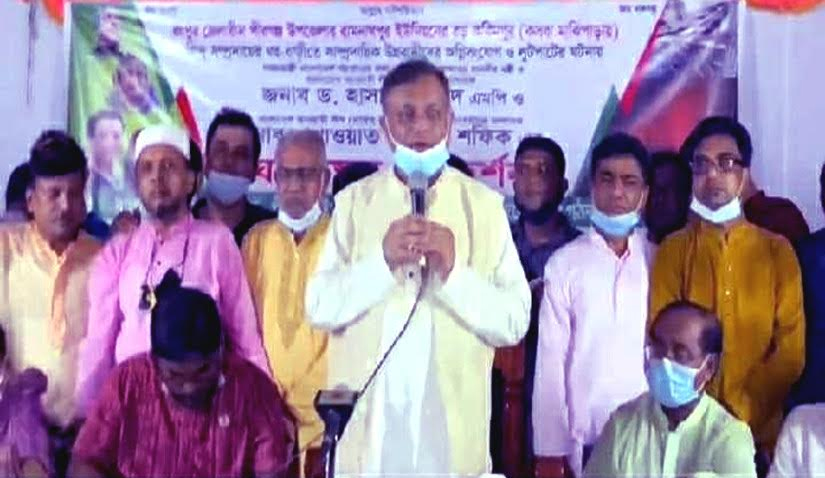 RANGPUR, Oct 19, 2021 (BSS) – Information and Broadcasting Minister Dr
Hasan Mahmud, MP, today said the government is determined to ensure
punishment of those, who are involved in violence and arson attacks in
Pirganj of Rangpur.
"The BNP-Jamaat fanatical clique patronizes militancy. They have
conducted arson attacks and violence against the Hindu community in
Pirganj. If necessary, the attackers will be arrested through a
combing operation," he said.
The minister said this while talking to reporters after addressing a
rally. Later, he visited the burnt and damaged houses of the
affected Hindu families in Majhipara village of Pirganj upazila in the
district tonight.
Dr Hasan said communal forces are behind the violence. The
incidents in Cumilla, Chandpur, Noakhali, Ulipur and Pirganj are
linked to one another by the same formula and there is provocation of the communal
politicians behind these incidents.
"We are investigating every incident. None of the perpetrators will be
spared. The Hindus, Muslims, Buddhists and Christians all belong to
this country and everyone has equal rights," he said.
Claiming that BNP-Jamaat practices anti-state politics, Hasan said Awami
League (AL) does not believe in communal politics and is not with the
politics of terrorism.
"Our first identity is Bengali. And the first identity of BNP is
religion," he said and called upon the party leaders and workers to
be vigilant in maintaining peace in the face of violence.
He said the Awami League wakes up when someone causes itching to the party.
"Our existence has been hurt. Leaders and workers have to guard
vigilantly like watchmen. We do not understand Muslims, Hindus,
Buddhists and Christians. People of all religions are citizens of this
country. Being Bengali is one of our great identities," he said.
Earlier, the minister along with the party leaders talked to the
people of the affected areas and inquired about them.
Later, the minister distributed Taka 5,000 and 20 kgs of rice among
each Hindu family, who became victims of violence and arson attack, in the
village.
Rangpur Deputy Commissioner Md Asib Ahsan, former Member of Parliament
Advocate Hosne Ara Lutfa Dalia, Rangpur District AL President Mamtaz
Uddin Ahmed, its General Secretary Advocate Rezaul Karim Raju, General
Secretary of Rangpur city AL Tushar Kanti Mandal, AL leader Rashek
Rahman, President of district Chhatra League Mehedee Hasan Rony, local
leaders and activists of AL and its associate bodies were present.
Earlier today, Jatiya Sangsad Speaker Dr Shirin Sharmin Chaudhury,
former Minister and JASHOD President Hasanul Haque Inu, Indian
Assistant High Commissioner based at Rajshahi Sanjeev Kumar Bhati and
Hindu Buddhist Kallyan Oikko Parishad's central President and former
Ambassador Professor Dr Neem Chandra Bhowmik visited the spot.