Community engagement to prevent Covid-19 spread stressed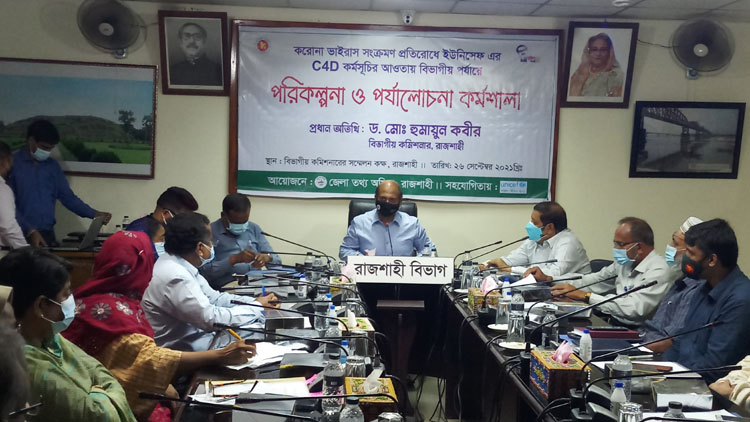 RAJSHAHI, Sept 26, 2021 (BSS)- Administrative and other officials
concerned viewed that community engagement, particularly in the remote and
rural areas, can be the best ways of limiting furthermore Covid-19 spread.
The integration and involvement of communities in COVID-19 prevention
and control is a potential and viable strategy in addressing the pandemic.
So, all the government and non-government organizations concerned should come
forward and work together.
The discussants came up with the observation while addressing a
divisional-level planning and review workshop held at the office conference
hall of Commissioner of Rajshahi division today.
The District Information Office hosted the meeting under the C4D
programme of UNICEF to prevent coronavirus infection.
Divisional Commissioner Dr Humayun Kabir addressed the meeting as chief
guest saying there is no scope of ignoring the issue of Covid-19 amid the
present lowering trend of infection and death.
He urged all concerned to expedite the awareness campaign against the
pandemic as the educational institutions opened for the greater interest of
the students. Importance should be given on wearing face masks, especially in
public places.
"We have to make the preventive and vaccination programmes successful
simultaneously," he added.
Dr Kabir told the meeting that the government has taken the decision of
vaccinating 75-80 lakh people across the country on Tuesday. Fifty plus
people will get priority in the mass-vaccination campaign. He urged all
concerned to supplement the government endeavor through performing their
respective duties with utmost sincerity and honesty.
Additional Divisional Commissioner Dr Ziaul Haque, Divisional Director
of the Department of Family Planning Mahbubul Alam, Divisional Deputy
Director of the Department of Secondary and Higher Education Dr Shormin
Ferdous Chowdhury, Editor of Daily Sonali Sangbad Liakat Ali and Editor of
Daily Sonar Desh Akbarul Hassan Millat.
Divisional Director of the Department of Mass Communication Farhad
Hossain and Deputy Director Nafeyala Nasrin also spoke highlighting their
official activities to prevent the Covid-19.