2,000 flood-affected households get relief materials in Natore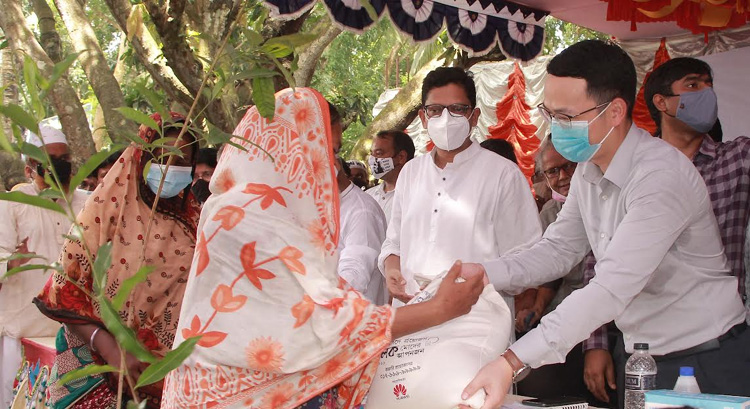 RAJSHAHI, Sept 25, 2021 (BSS)- A total of 2,000 households badly affected
by flash flood in different areas of Natore district were given humanitarian
support to mitigate their hardship.
Each of them was given a food package containing rice, red lentils,
potatoes, salt, sugar and oral saline at Court Field in Shingra Pourashava
today through maintaining health rules amid the Covid-19 pandemic.
Huawei Bangladesh, the leading provider of information and communications
technology (ICT) equipment and solutions, provided the relief materials to
the flood-affected people.
State Minister for Information and Communication Technology Zunaid Ahmed
Palak distributed the relief materials as chief guest.
Enterprise Business Group President of Huawei Bangladesh George Lin,
Upazila Nirbahi Officer Samirul Islam and Acting Mayor of Singra Pourasabha
Sonjoy Kumar Shaha were present on the occasion.
The meeting was told that around 70,000 people have been affected by floods
in different parts of the Natore district this year.
Due to such sudden flash floods, new char areas, croplands, and houses have
been inundated, putting the lives and livelihood of thousands in danger.
This year, a sudden onrush of water has jeopardized the lives of
innumerable people residing in Gurdaspur, Singra, Naldanga, and Baraigram
Upazilas. Many people have lost their houses and livestock.
Speaking on the occasion, Palak said the current pandemic has created havoc
in the lives of people both for individuals and business organizations. In
addition to this, the recent flood has pushed the remote people into huge
sufferings.
A leading company, Huawei Bangladesh has come forward to the aid of the
people in need. This gesture from Huawei will definitely lessen the
sufferings of the affected people to some extent.
He also expressed his thanks to Huawei on behalf of the beneficiaries.