President for finding effective ways to curb consumers-fraud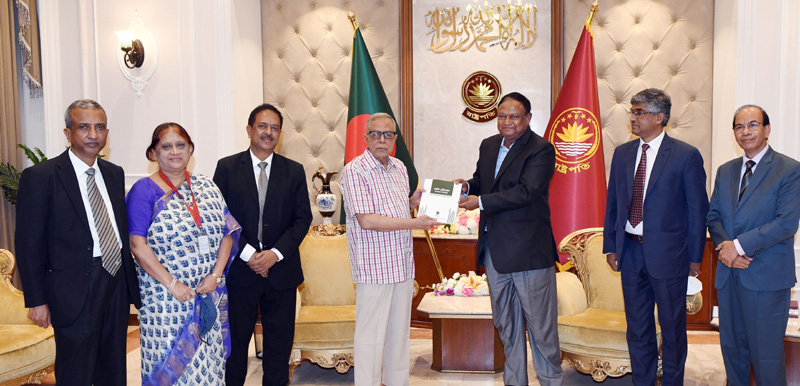 DHAKA, Sept 23, 2021 (BSS) - President M Abdul Hamid today asked the Bangladesh Competition Commission (BCC) to find effective ways to stop consumers-fraud as it submitted annual report to him.
The President categorically directed the commission to take effective action for the consumers before they are harmed.
A BCC delegation led by Commerce Minister Tipu Munshi handed over the Commission's annual report for the fiscal year 2020-2021 this evening, President's Deputy Press Secretary Munshi Jalal Uddin briefed after the meeting.
Referring to recent reports of newspapers and other news outlets on consumer fraud through e-commerce, President Hamid called upon the commission to find ways to curb consumers-fraud in the rapidly expanding e-commerce system in the country.
The head of the state termed the e-commerce as a promising sector as huge peoples are involved with it.
He said everyone should be careful so that this sector does not stumble at the beginning.
Abdul Hamid also called upon all concerned institutions of the government to crack down on the issues which are harmful against the interest of consumers.
He said the BCC should take steps to protect the interests of traders and ensure that consumers get quality products at reasonable price within the stipulated timeframe for creating a competitive market.
During the meeting, the chairperson of the commission Mofizul Islam briefed the President about the overall activities of the commission along with some notable issues of the report.
The delegation members also included Commerce Secretary Tapan Kanti Ghosh, commission members GM Saleh Uddin, AFM Manzur Kadir and Nasrin Begum.
President's Office Secretary Sampad Barua, Military Secretary Major General SM Salahuddin Islam and Secretary (Attachment) Md. Wahidul Islam Khan were present there.