Govt keeps economy moving despite Covid pandemic: Speaker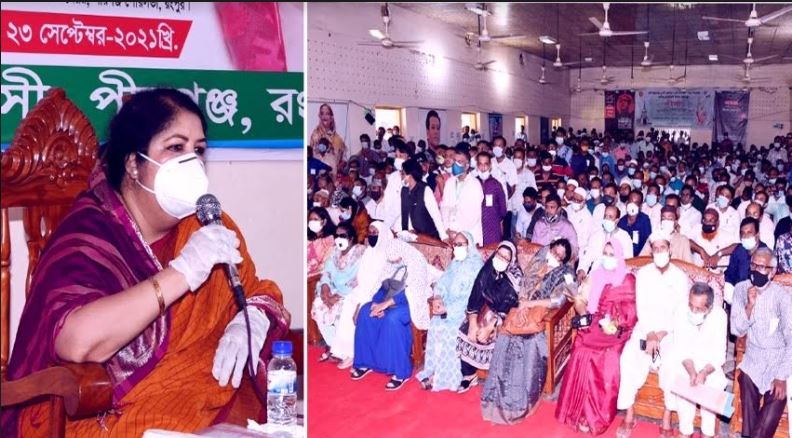 RANGPUR, Sept 23, 2021 (BSS) - Jatiya Sangsad Speaker Dr Shirin Sharmin Chaudhury today said the government has engaged all efforts to keep the economy moving during the Covid-19 pandemic when the global economy is facing a crisis.
"Prime Minister Sheikh Hasina is working relentlessly to improve people's fortune and bring smiles on faces of distressed people," she said while addressing a views-exchange meeting at Pirganj upazila auditorium in the district as the chief guest.
The people from all walks in life of Pirganj upazila organised the meeting participated by leaders of Awami League (AL) and its associate bodies, officials, freedom fighters, public representatives, professionals and local elite.
Presided over by Pirganj upazila AL President Advocate Azizur Rahman Ranga, its General Secretary and Pirganj municipal Mayor Tazimul Islam Shamim moderated the event.
At the beginning of the meeting, a one minute of silence was observed in memory of Father of the Nation Bangabandhu Sheikh Mujibur Rahman, recitation from the Holy Quran and Gita.
Leaders of the ward, union and upazila units of AL and common people from across Pirganj upazila cited various problems and issues of their respective areas in the meeting and requested the Speaker for resolving those for their development and welfare.
The Speaker hoped that the problems would be resolved as soon as possible and suggested everyone raise the local problems to also solve those in the future.
Dr Shirin said the administrations as well as the people's representatives of all union parishads should be vigilant in distribution of rice and other commodities among common people.
With the joint efforts of all, it has been possible to overcome the time of natural disaster and Covid-19 pandemic.
"Following the instructions of Prime Minister Sheikh Hasina, it has been possible to protect the lives of people alongside keeping the wheels of the economy moving forward," she said.
Besides, the martyrdom anniversary of Father of the Nation Bangabandhu Sheikh Mujibur Rahman and National Mourning Day were observed with due dignity, abiding by the health directives, hygiene rules during the Covid-19 pandemic.
"The safety of the people of every ward of Pirganj upazila has been ensured during the Covid-19 pandemic," Dr Shirin said.
Besides, it has been possible to continue the daily activities of everyone by following the hygiene rules during the pandemic period when local leaders worked through mutual communication and cooperation to ensure welfare of common people.
"In order to ensure medical services for common people, the health services of Pirganj Upazila Health Complex are being monitored regularly," she said.
More development activities are underway or completed in Pirganj upazila including construction of the eye-catching model mosque, rural roads and infrastructure.
"We have taken projects to ensure iron free water and drinkable water through the Japan International Cooperation Agency. After construction of the Marine Academy in Pirganj, information technology based training has been arranged there," she added.