'333' helpline turns blessing for poor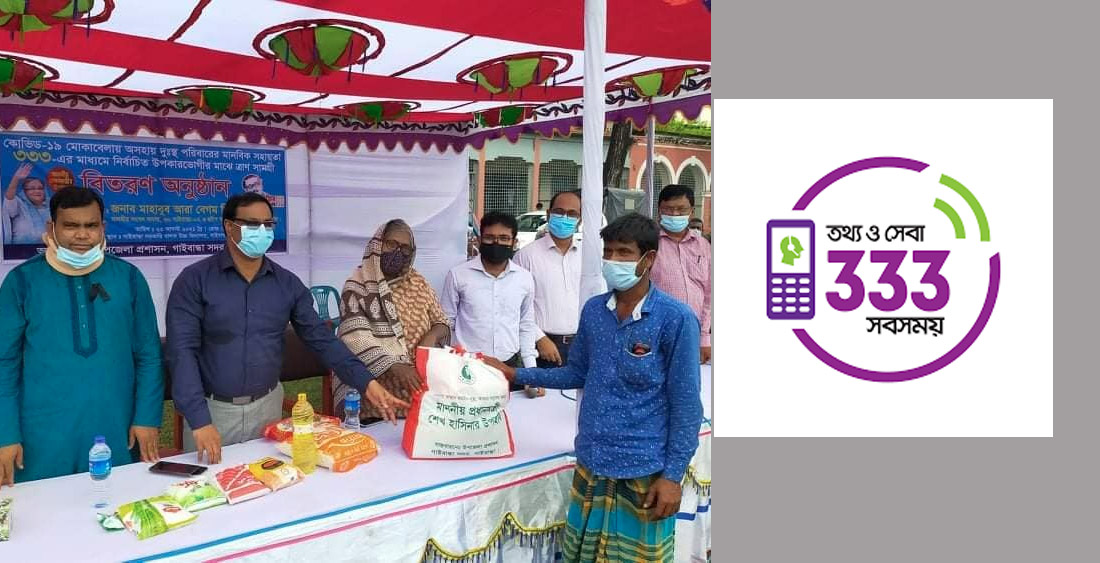 Shuaibul Islam

SYLHET, Sept 22, 2021 (BSS) - The national helpline '333' has been boon for poor people as it is getting popularity among the masses for food service across the country, especially in district level.

Scores of distressed people are taking assistance from the national helpline, terming the service as savior one as they are receiving quick response from it.

Driver Sohel of Bishwanat area fell into food crisis in the month of May last year due to ongoing COVID-19 pandemic. Her wife dialed the number '333' during the countrywide lockdown. After receiving information and scrutiny, local upazila nirbahi officer (UNO) reached relief items to Sohel's house at Purbo Chandshir Kapan village.

The UNO himself handed over them the relief items that included 10-KG of rice, 2-KG pulses, 5-KG potatoes, 2-liter oil and one piece soap.

Locals got the information from different mass media, prompting many people to dial the national helpline for food assistance.

UNO Suman Chandra Das said, "So far, about 500 people of the upazila dialed the number for food assistance. Of them, 400 people, who are actually needy, have got food aid."

Many people including labours became jobless from the very beginning of the outbreak of the pandemic. Lower-income people plunged into trouble as many of them lost jobs and faced food crisis. Just at that moment, the national helpline '333' emerged as savior for them.

The a2i (aspire to innovate) has taken different initiatives in combating COVID-19 situation. The national helpline is one of those remarkable steps. People get information on COVID-19, emergency health advice, daily essential items, medicines and food assistance through dialing the number ('333').

The a2i officials said the countrymen are getting different information and services and even the help from local administration to solve social problems through dialing '333-0'. So far, about 4.64 crore calls have been received through the national helpline, they added.

The people also get different health related services through dialing '333-1'. About 62 lakh people so far received telemedicine service through this number. People get health related services from specialist doctors from anywhere of the country by dialing the number.

And the people can buy daily essentials and medicines through dialing '333-5' number.

By dialing '333', about 9.19 lakh people have received assistance. The number '333-5' is providing 'Phone-e Nitthyoponnyo' service. About 1.42 lakh people have received daily essentials by dialing this number.

Deputy Commissioner Office sources said the demand of food assistance increased due to shutdown and ongoing COVID-19 situation in city and different upazilas of the district. Food items are delivered to those people's houses who are seeking assistance by dialing '333-3'.

Assistant Commissioner Mejbah Uddin said 556 phone calls for food assistance were received till August 22 last in Sylhet city. Of them, 369 people got food assistance after scrutiny. But, it was not possible to assist 187 persons due to lack of information, he added.

Widow Surutun Nessa of Dwarikhel village of Goainghat upazila of the district called 333 with the help of a neighbour. After getting information, the local upazila administration provided her food assistance.

She said, "The gift of the Prime Minister saved my life. For this, I'm extending my gratitude to her."

Goainhat UNO Tahmilur Rahman said that a total of 6,122 phone calls were received for food aid till August 28 last. Of them, 5,389 received food assistance. The rest would get assistance soon after scrutiny, he added.

The Jaintapur upazila administration received 560 phone calls till August last. Of them, 480 people already received food aid.

Besides, 491 people of Sylhet Sadar upazila, 600 people of Kanaighat upazila and 198 persons of Jakiganj upazila were given food assistance till August.

In Biyanibazar upazila, 1,386 phone calls were received while 687 people got assistance.

About 4000 families received food aid in Moulavibazar district till mid-August.

"We've received about 4000 calls during April 14 to August 16 this year. Of them, 3,744 people got food aid through local upazila administrations after scrutiny," Additional Deputy Commissioner of the district Tania Sultana.

So far, about 18,870 people received food assistance, she said.

Physically challenged person Taj Uddin of Sujaul Panchpara village in Borolekha upazila sought food assistance on May 6 last through dialing the national helpline. He received the food items within two hours after the call.

He said, "I was really astonished. I never thought that I will get assistance soon so quickly after the call. I'm extending my thanks and gratitude to the Premier."

Additional Deputy Commissioner of Sylhet Mahfuzur Rahman said food assistance is being delivered to those who are really needy.