President for enhancing judges' IT skills with advanced training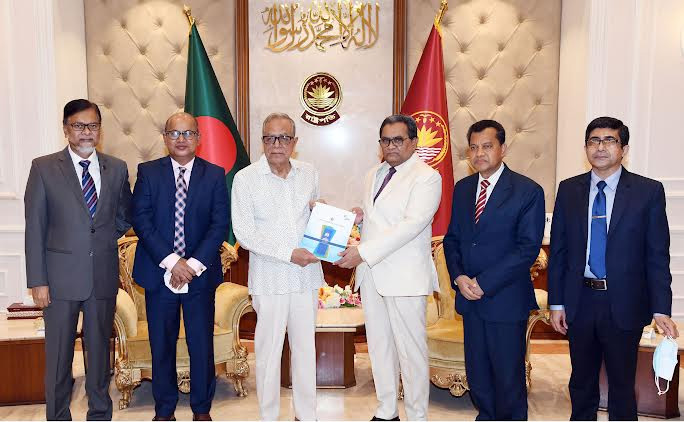 DHAKA, Sept 17, 2021 (BSS) - President M Abdul Hamid today asked the Judicial Service Commission (JSC) to take necessary steps for raising judges' skills in information technology (IT) with advanced training.
The head of the state came up with the directive as JSC led by its Commission Chairman Justice Hasan Fayez Siddiqui submitted Commission's Annual Report-2020 to the President at Bangabhaban here this evening.
Later, President's press secretary Md Joynal Abedin briefed the newsmen about the outcome of the meeting.
Although the judicial process has already been launched in a virtual manner, it is necessary to increase its scope as well as area considering the situation, the President said.
At the same time, Abdul Hamid categorically stressed on the advanced training to enhance the professional skills of judges.
The Chairman of the Judicial Service Commission briefed the President on the commission's overall activities and various aspects of the report.
Members of the commission Justice Md Nazrul Islam Talukder, Justice Sahidul Karim, Attorney General Abu Mohammad Amin Uddin and Law Secretary Md Golam Sarwar were present.
President's Office Secretary Sampad Barua, Military Secretary Major General SM Salah Uddin Islam, Press Secretary Md Joynal Abedin and Secretary (Attachment) Wahidul Islam Khan were present there.