Polls can't be foiled thru attacks: Hanif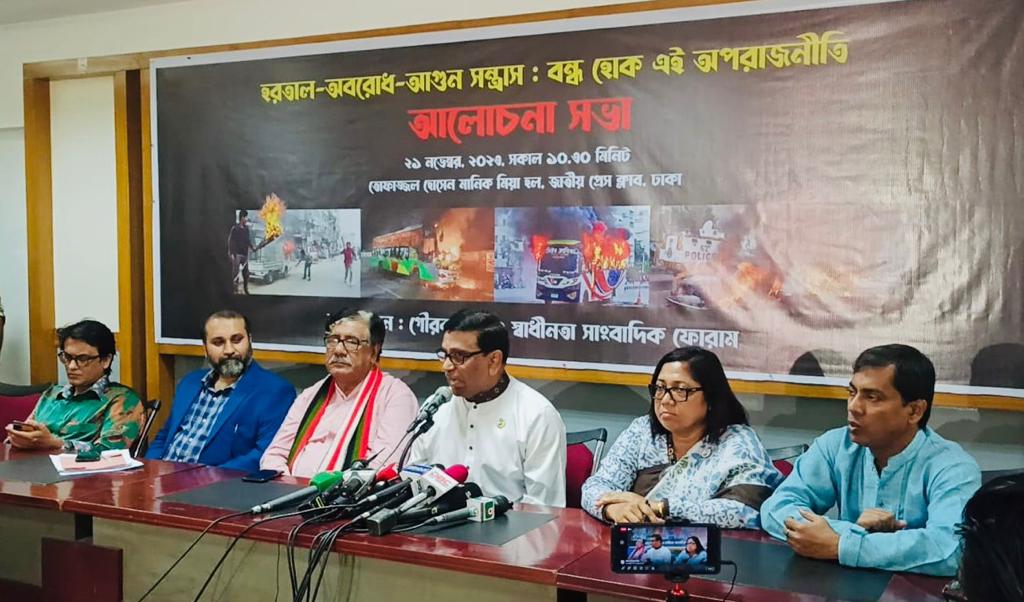 DHAKA, Nov 21, 2023 (BSS) - Joint General Secretary of Awami League (AL) Mahbubul Alam Hanif, MP, today said that elections cannot be foiled by setting fire to buses as well as trains and conducting clandestine attacks.

Noting that BNP-Jamaat is doing terrorist activities in name of political programmes, he said: "They thought that by setting fire to buses and destroying the state's properties, the elections can be thwarted."
"Elections cannot be foiled. The election will be held in a festive atmosphere as per the constitution," he said.
Hanif said these while addressing a discussion titled 'Hartal-Oborodh Ar Agun Sontras: Bondho Hok Ei Opo Rajniti' jointly organized by Gourab'71 O Swadhinata Shangbadik Forum at Jatiya Press Club's Tofazzel Hossain Manik Mia Hall here as the chief guest.

The veteran AL leader further said that he never considered Jamaat as a political party.

Religious militant group Jamaat-e-Islami showed their militancy in 1971 through murders and terrorist activities, Hanif said, adding that their trend is still continuing.

"Like Jamaat, BNP has also become a militant group," he continued.

With Editor of the Daily Observer and former Media Adviser to Prime Minister Sheikh Hasina Iqbal Sobhan Chowdhury in the chair, the discussion was, addressed, among others, by AL Central Committee Member Advocate Sanjida Khanam and President of Sammilito Sangskritik Jote Golam Kuddus.