Bir Shrestha Nur Mohammad's death anniversary observed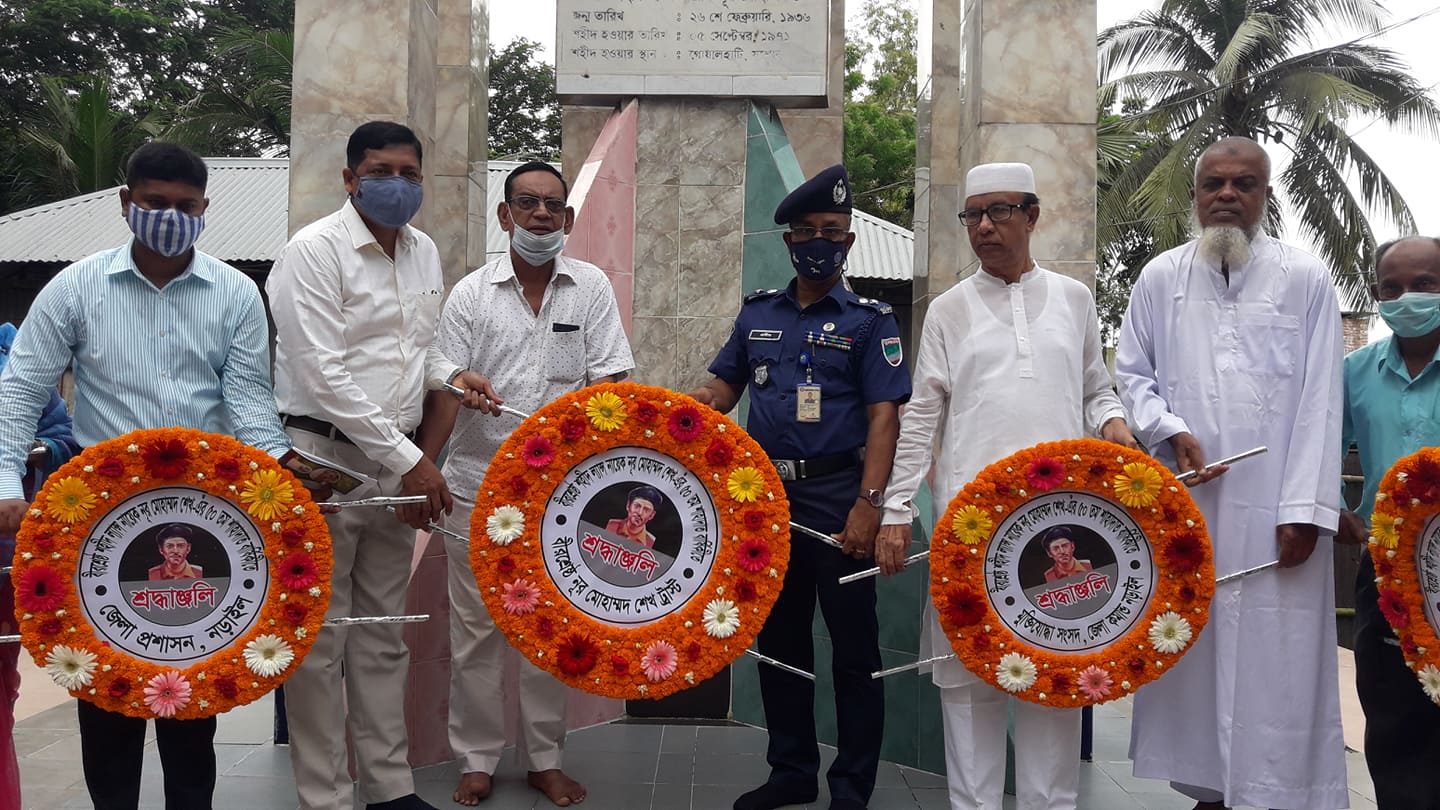 NARAIL, Sept 5, 2021 (BSS) - The 50th death anniversary of Bir Shrestha Nur Mohammad Sheikh was observed at Nur Mohammad Nagar in Chandibarpur union of the district in a befitting manner today maintaining social distancing amid the coronavirus pandemic.
The Bir Shrestha Nur Mohammad Sheikh Trust and Narail district administration jointly taken various programmes to mark the anniversary.
The programmes began with rally, placing of wreaths and presenting guard of honour at the memorial monument in Nur Mohammad Nagar.
Qurankhani, Doa Mahfil and special prayer were also held in Nur Mohammad Sheikh Library and Memorial Museum at Chandibarpur union in Narail sadar upazila of the district.
Besides, gift items from the Prime Minister were distributed at the occasion.
Deputy Commissioner of Narail, also president of Bir Shrestha Nur Mohammad Sheikh Trust, Muhammad Habibur Rahman was present as the chief guest.
Police Super Probir Kumar Ray, Narail Sadar Upazila Nirbahi Officer (UNO) Sadia Islam, Additional Police Super Tanjila Siddiqa, Trustee of Bir Shrestha Nur Mohammad Sheikh Trust Freedom Fighter SA Matin, its member secretary and Chandibarpur Union Parishad Chairman Azizur Rahman Bhuyan were present, among others, in the programmes.
Nur Mohammad Sheikh was born on February 26, 1936 at Mahiskhola village (present name Nur Mohammad Nagar) in Chandibarpur union of Narail sadar upazila.
He joined the then East Pakistan Rifles (EPR), now Border Guard Bangladesh (BGB), on February 26, 1959. He later joined the liberation war in 1971.
He braced martyrdom in shooting by Pakistan occupation forces on September 5, 1971 at Goalhati in Jashore during the war.
He was buried in Kashipur area in Sharsha upazila of Jashore.