Nepalese ambassador joins view-exchange with Hindus in Mymensingh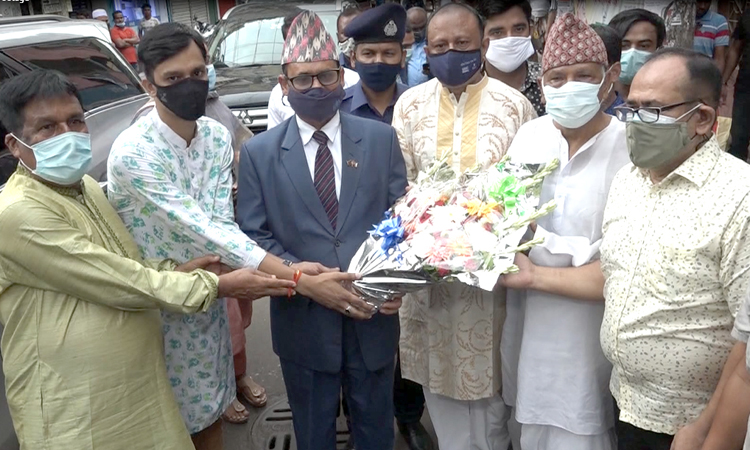 MYMENSINGH, Sept 2, 2021 (BSS) - Nepalese Ambassador to Bangladesh Dr Banshidhar Mishra today joined a view-exchange arranged by Aryadharma Gyan Pradayini Sabha with members of the Hindu community at Durgabari Temple in the city.

"Bangladesh and Nepal are two friendly nations. The culture and traditions here are as like as those of our country. There is no disparity among Hindus, Buddhists, Christians and Muslims here. It is a proud nation," he told the view-exchange.

The Nepalese ambassador hoped bilateral relations, trade and commerce between the two nations will be deeper in the coming days.

Later, Dr Mishra visited the temple and took prashad and offered puja at the temple.

High officials of the Nepalese Embassy in Dhaka, Aryadharma Gyan Pradayini Sabha President Bimal Kanti Dey, Hindu, Buddhists, Christian Oikya Parishad, Mymensingh President Advocate Bikash Roy, Mymensingh Puja Udjapan Parishad President Rakhal Chandra Sarker, its Vice-Presidents Pijush Kanti Sarker, Dr Harishankar Dash, Swapan Sengupta, Advocate Tapon Kumar Dey, Prasanta Das Chandan, Pranab Kumar Saha Roy and Sankar Saha, leaders of Ramkrishna Asram, ISKON and different temples were present on the occasion.