Death toll from Mexico church roof collapse rises to 11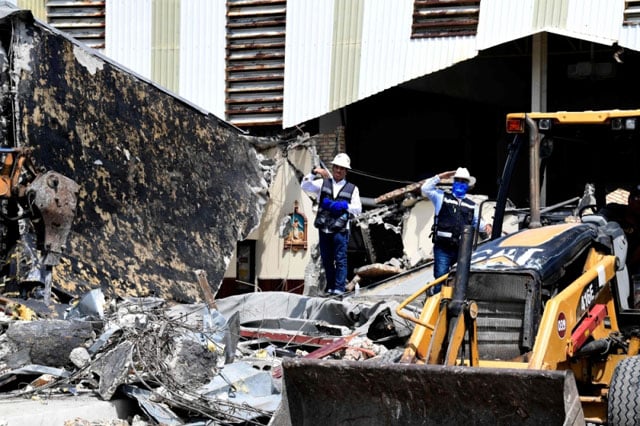 CIUDAD MADERO, Mexico, Oct 3, 2023 (BSS/AFP) - The death toll from a roof collapse at a church in northeastern Mexico rose to 11 on Monday, with dozens more injured, as a shocked community mourned victims of the disaster.
The tragedy struck the coastal town of Ciudad Madero, in Tamaulipas state, on Sunday when about 70 people were attending a baptism at the Santa Cruz Catholic Church, according to officials.
Several children were among those killed, while about 60 people were injured, of whom 13 remained in hospital, authorities said.
"Unfortunately I've just received the sad news that another person has died. We have 11 deaths," town mayor Adrian Oseguera told reporters at the scene on Monday.
Pablo Galvan, a priest who had just left the church after leading Sunday mass to make way for a baptism celebrated by his colleague Angel Vargas, said the disaster sounded like a gas explosion.
Rushing back, he saw people trying to escape from the collapsed structure, he told AFP in a broken voice.
"I ran to make sure nothing had happened, but all the people were coming out of the windows, cutting themselves. Especially the mothers looking for their children," Galvan said.
He said the other priest "was able to escape unscathed, thank God," because the roof fell a few centimeters from him. "It was a reflex that saved him," he said.
"As soon as the baptism began, five minutes passed and the roof collapsed," Galvan told AFP.
"Despite how painful and chaotic the next few hours were, it was very comforting to see how the community came together," he added.
President Andres Manuel Lopez Obrador expressed his condolences to the relatives.
The disaster had generated "a lot of solidarity from the people," he said at his regular morning news conference.
- 'Very difficult moment' -
In one corner of the ruined church, an image of the Virgin of Guadalupe had survived, and a cross could still be seen hanging on a wall.
Church officials said a collective baptism was being celebrated when the ceiling collapsed in the city of just over 200,000 people on the coast of the Gulf of Mexico.
"We are experiencing a very difficult moment," the bishop of the local diocese, Jose Armando Alvarez, said in a video posted to social media.
With all of the missing accounted for, workers used heavy machinery to clear away rubble, as local residents expressed sorrow.
"I'm shocked. What happens to one of us, happens to all of us, so we feel a lot of pain for the families who are going through this," said Beatriz Morales, a housewife.
After the roof collapsed, ambulances, police and military personnel rushed to the site, in addition to numerous people in search of family members who were inside the church.
Local residents put out calls on social media asking for tools to aid the rescue effort, such as hydraulic lifts and hammers.
Local media showed footage of dozens of people trying to hold up part of the collapsed structure with poles while others made their way through the wreckage in search of survivors.
In a scene reminiscent of earthquake recovery efforts, rescuers could be seen raising their fists in the air as a call for silence so they might hear any calls for help coming from people stuck under the wreckage.
A video reportedly from a nearby security camera appears to show the moment of collapse, as the church building -- constructed about four decades ago -- crumbles all at once into a cloud of dust.
The Archdiocese of Mexico posted a message on social media offering condolences.
"We join in prayer with our sister diocese Tampico to intercede for our killed and injured brothers," it said.