Nasrul seeks tech cooperation for renewable energy expansion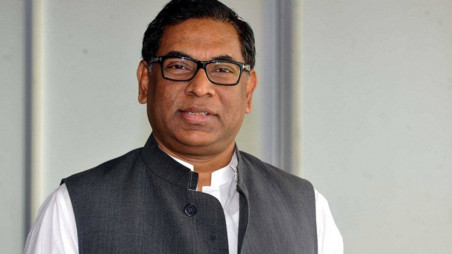 DHAKA, Oct 1, 2023 (BSS) - State Minister for Power, Energy and Mineral Resources Nasrul Hamid sought global technological cooperation from technologically-advanced nations along with financing for expansion of renewable energy in Bangladesh.
"The government has been working to provide safe and clean electricity with reasonable price to the country people. By 2041, the government will meet the goal of producing 40% of electricity from clean energy", said Nasrul Hamid.
The minister was addressing a meeting with a European Union delegation led by Peteris Ustubs, the director responsible for the Middle East, Asia and Pacific of the INTPA of the European Commission, at the conference room of the ministry.
The minister said currently, about 1200 Megawatt of electricity is being generated from renewable sources while the process of generating about 10,000 MW of electricity from renewable sources is underway through 100 projects.
Peteris Ustabs said EU is interested in the development of Bangladesh's electricity sector. The EU is working on a project titled 'Energy Connectivity in South Asia' to integrate renewable energy, reduce greenhouse gas emissions, increase energy security and economic development in Bangladesh, Bhutan, India, Nepal and Sri Lanka, he added.
Senior Secretary of Power Division Md Habibur Rahman, EU Ambassador to Bangladesh Charles Whitely, Head of Sector for South Asia Audrey Maillot and Chairman of Bangladesh Power Development Board (BPDB) Engineer Md Mahbubur Rahman were also present on the occasion.