Khaleda must appear before court for her treatment abroad: Quader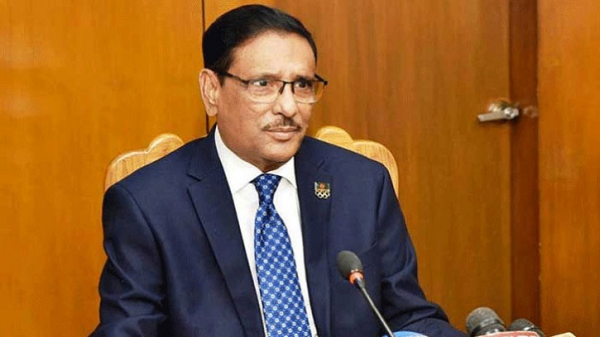 DHAKA, Oct 1, 2023 (BSS) - Awami League General Secretary Obaidul Quader today said BNP chief Begum Khaleda Zia, a convict in graft cases, will have to appear before court to take permission for going abroad to receive treatment.

"As per the existing law, the government has nothing to do over allowing BNP chief Khaleda Zia to go abroad for medical purpose. She will have to appear before the court and receive treatment following court directives," he said.
Quader, also road transport and bridges minister, was talking to newspersons after the end of a joint meeting of leaders of Dhaka and other regions with party presidium at AL's Bangabandhu Avenue central office.
He said Prime Minister Sheikh Hasina showed the highest generosity over Khaleda Zia's issue and she set an example by allowing BNP chief to receive treatment staying at her home after postponing her jail sentence in graft cases for several occasions.
Khaleda was freed from jail on March 25, 2020, after the government suspended her jail sentence for six months on conditions.

Quader said the Premier clearly explained the issue of Khaleda's treatment abroad.
About dubbing the government as illegal by BNP, the AL general secretary said if the government is illegal why BNP sought government's permission to send Khaleda abroad for medical purpose.
Explaining the inevitability of abiding by the law, he said even lawmaker Hazi Selim wasn't allowed to go beyond the law.
Noting that AL didn't come to power at the barrel of gun, Quader said BNP had mocked over AL's seats in parliament in different occasions which was the party's arrogance and superciliousness.
Quader blamed BNP that the party is hatching deep-rooted conspiracy to create one-eleven like unusual government and their only target is to topple Sheikh Hasina's government.
He said the Premier will return home on October 4 and she is coming with many international awards and honors for the country.
But she rejected AL's proposal to accord a reception to her upon her return to the country, he noted.
Quader announced new programme ahead of the 12th national elections which include grand rally at Amin Bazar in Savar, the capital's outskirts on October 3.
Several rallies will be arranged marking inauguration of the third terminal at Hazrat Shahjalal International Airport on October 7, rail service inauguration via Padma Bridge and inauguration of Agargaon-Motijheel section of metro-rail on October 10 and Bangabandhu Tunnel inauguration on October 28.