17th DU central annual theatre fest commences tomorrow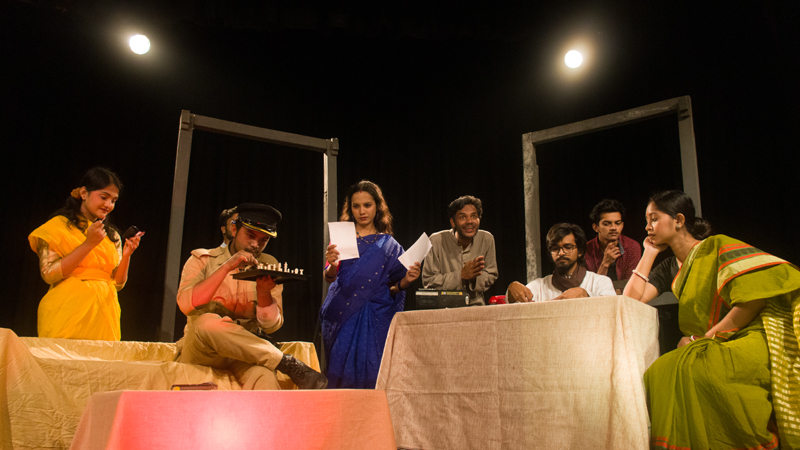 DHAKA, Oct 01, 2023 (BSS) - The 17th Annual Theatre Festival of the Department of Theatre and Performance Studies, Dhaka University will begin tomorrow.
The nine-day festival, scheduled to be held from October 2 to October 10, will feature a total of 15 plays which will be staged at the auditorium of TSC every evening.

The 15 plays will be directed by honours final-year students as per their academic curriculum while the students of other batches are working on set and sound design, casting, costumes, make-up and others.
Dhaka University vice-chancellor Professor Md Akhtaruzzaman will inaugurate the theatre festival as the chief guest while DU Pro-VC Prof Dr ASM Maksud Kamal will addressed the occasion as special guest with department chairperson Kazi Tamanna Haque Sigma in the chair.
The chairperson of the department Kazi Tamanna Haque Sigma revealed the information today at a press conference at the office of Dhaka University Journalists' Association (DUJA) this afternoon.
Professor Israfeel Shaheen and Assistant professor Tanvir Nahid Khan also addressed the press conference.
In Addition, the department will facilitate legendary theatre personality and Ekushey Padak winner playwright, director and actor Mamunur Rashid for his contribution to theatre.
On the opening day, Rabindranath Tagore's play 'Dakghar', directed by Ifti Shahriar Raian, will be staged in the fest.
The other plays include Salim Al Deen's drama 'Sangbad Cartoon' by Rifat Jahan Shaon, 'Maranbilas' based on Ahmed Safa's novel by Rifat Karobi, Manoj Mitra's play 'Mahavidya' by Mojahidul Islam Rifat, Rabindranath Tagore's play 'Chandalika' by Rezvi Sultana, Syed Shamsul Haque's play 'Irsha' by Tahia Tasnim Mim, 'Baidehi' written and directed by Moumita Sarkar, Bankimchandra Chatterjee's 'Kamalakantar 'Jabanbandi' by Mirhazul Sheble, Abdullah Al Mamun's drama 'Kokilara' by Zadid Imtiaz Ahmed, Utpal Dutt's drama 'Megh' by Tarikul Sardar, Nurul Momen's drama 'Nemesis' by Salman Noor , Sharadindu Bandyopadhyay's play 'Satyanmeshi' by Pran Krishna Banik and Rabindranath Tagore's play Strir Patra by Sarfaraz Al Tanvir.
Badruzzaman Alamgir's play 'Aharkandal' directed by Debolina Chanda Daibee and Munir Chowdhury's play 'Dandakaranya' directed by Joya Maria Costa will be staged on the last day of the festival.