Sheikh Hasina promoting women leadership in every sector: Arefin Siddique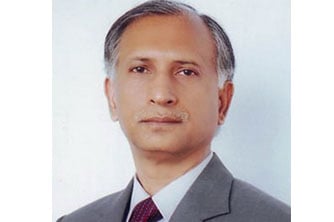 DHAKA, Oct 1, 2023 (BSS) - President of Bangabandhu Parishad Prof AAMS Arefin Siddique today said Prime Minister Sheikh Hasina has been promoting women leadership in every sector of the country.
"Prime Minister Sheikh Hasina is working relentlessly for progress of the country and its people, so all should be united under her leadership," he told a discussion titled "Bangladesh into a Unique Height" marking the 77th birthday of Awami League (AL) President and Prime Minister Sheikh Hasina at Abdus Salam auditorium at Jatiya Press Club here.
Arefin said Bangabandhu's successor Sheikh Hasina has changed the fate of Bangalee nation undoubtedly and she has played a strong role in empowering women apart from contributing to ensuring gender equality in society.
"She recently, in a speech at the United Nations, said that it is necessary to bring a woman leadership to the post of the Secretary General of the United Nations," he said.
"May Sheikh Hasina lead the nation for a long time," he said, wishing her sound health and long life.
Prof Arefin, also former Vice-Chancellor of Dhaka University (DU), said Prime Minister Sheikh Hasina is working for materializing Sonar Bangla dreamt by Bangabandhu Sheikh Mujibur Rahman.
The country is moving forward under the dynamic leadership of his successor (Bangabandhu) Prime Minister Sheikh Hasina, he added.
Prof Arefin Siddique presided over the discussion while AL Presidium Member Dr Mostafa Jalal Mohiuddin, Bangabandhu Parishad General Secretary Prof ABM Faroque, Vice-Chancellor of Bangabandhu Sheikh Mujib Medical University (BSMMU) Professor Dr Md Sharfuddin Ahmed, Prof Dr Md Habibur Rahman, Vice Chancellor(VC) of Dhaka University of Engineering and Technology, Prof Dr Mahfuza Khanom, Dr Sheikh Saiful Islam Shahin, Prof Dr Jebun Nessa, Bangabandhu Parishad Organizing Secretary Leakot Hossain Moral, among other, spoke in the meeting. Acting general secretary of Bangabandhu Parishad Dr Sheikh Abdullah Al Mamun conducted the event.
Dr Mostafa Jalal Mohiuddin said Father of the Nation Bangabandhu Sheikh Mujibur Rahman's worthy daughter Prime Minister Sheikh Hasina unchained the nation after assuming the state power.
"Sheikh Hasina is a role model of Bangladesh and the country is progressing fast under her leadership," he added.
He urged the countrymen to cast their vote in favor of boat, electoral symbol of AL. He said BNP's founder military dictator Ziaur Rahman stopped trial of killers of Bangabandhu with Indemnity Act.
A special prayer was held for the welfare of the nation and sound health and long life of Deshratna Jannetri Sheikh Hasina.
Syed Md Emdaduddin, Khatib of Dhaka University's Central Mosque, conducted the prayers.