Palak urges new generation to become innovative and smart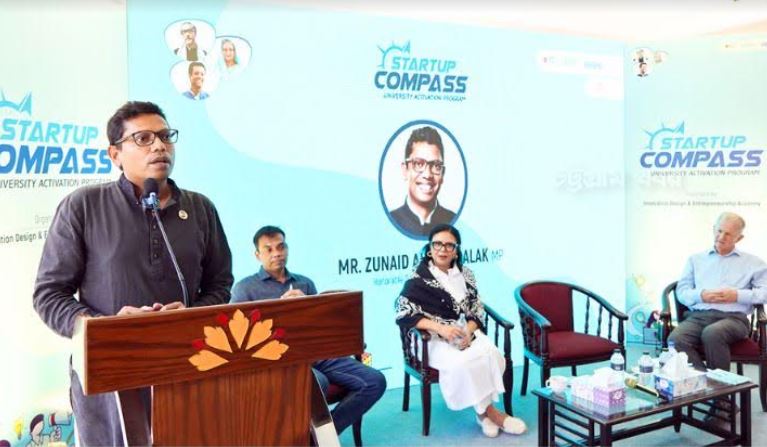 CHATTOGRAM, OCT 1, 2023 (BSS)-State Minister for ICT Junaid Ahmed Palak today said the new generation should be innovative and smart as well as entrepreneurs to play an important role in the society.
He said, the parents or teachers have inspired us to become public servants or doctors or engineers from our childhood but Prime Minister Sheikh Hasina has created an opportunity for the new generation to become entrepreneurs without running after jobs by implementing Digital Bangladesh,' he said adding that an entrepreneur can create numerous jobs and an employee only takes responsibility for one family at best.
The state minister said this while addressing at the Startup Compass University Activation Program at the conference hall of Mahsa Amini Campus of Asian University for Women in the city this afternoon as chief guest.
The ICT state minister said, once we used to exchange money through the postal department and it took two to three days time.
"B-kash Initiative to start its journey on a small scale in 2010. B-kash has now become a billion dollar company in just 12 years. The development has not only provided a beautiful solution for quick and safe money transfer but also created employment for thousands of youths," he said.
Palak said it is a good example of how a single innovative and creative solution can solve a larger problem and become the workplace of a large community.
"So here we are setting up Innovation, Design and Entrepreneurship Academy to inculcate the students. In order to make Startup Compass successful, funding, training, incubation and networking should be focused on four issues. In the meantime, we have started setting up University Incubation Centers in various universities," he added.
Addressing the students, the state minister said, if you have a creative mind, you can solve any problem with your creative ideas.
He said at least 30 companies have already invested through Startup Bangladesh Company as like Shop-up, Chaldal, Pathao, Ten Minutes School etc.
Rubana Haque, Vice-chancellor of Asian University for Women presided over the function while Pro-VCs David Taylor and Dr. Mizanur Rahman deliver the speech as guests.