Areef, Asadduzzaman reelected president, secretary general of BSCCM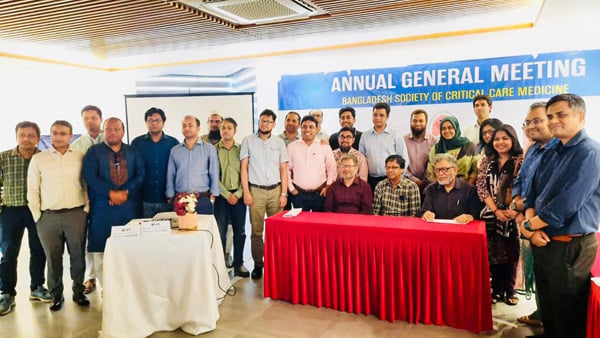 DHAKA, Oct 1, 2023 (BSS)-Prof Dr ASM Areef Ahsan of the BIRDEM Hospital and Dr Muhammad Asaduzzaman of Kuwait Bangladesh Friendship Hospital were reelected as president and secretary general of Bangladesh Society for Critical Care Medicine (BSCCM) respectively.
The 37-member executive committee for the year 2023-24 tenure was elected through a general meeting of the society held here on Friday.
Dr Kaniz Fatema and Dr Fatema Ahmed of the BIRDEM Hospital, Dr Md Motiul Islam of Asgar Ali Hospital, Dr AKM Ferdous Rahman of the Dhaka Medical College and Hospital (DMCH), Chief of Critical Care Medicine Unit of the National Institute of Neuroscience Hospital (NINS) Dr Ujjal Kumar Mallick and Dr Zafor Iqbal of the Evercare Hospital were elected as vice-presidents respectively.
Meanwhile, Dr Mohammad Salim, Dr Subrata Kumar Sarkar and Dr Mohammad Mohsin of the DMCH, Dr Syed Tariq Reza of the Dhaka North City Corporation (DNCC) Hospital and Dr Sirajul Islam Hirok of the NINS were elected Joint Secretaries of the society.
Dr Md Ashrafuzzaman Sajib of Bangabandhu Sheikh Mujib Medical University (BSMMU) was elected as Organizing Secretary while Dr Amina Sultana of the United Hospital was elected Treasurer.
The other office bearers are - Dr Manas Kanti Mazumder (Office Secretary), Dr Rozina Sultana (Scientific Secretary), Dr Mohammad Rabiul Halim(Cultural Secretary), Dr Debashish Kumar Saha and Dr Arafat Hossain Rubayet (International Affairs Secretary), Dr Md Asharafuzzaman Dinar and Dr M Habibullah Fuad (Inter Society Affairs Secretary), Dr Mohammad Asaduzzaman Parvez (Publication Secretary), Dr Sardar Md Tanvir and Dr Umme Kulsum Moury Chowdhury (Secretary for Ethics and Patients Welfare), Dr Tariqul Hamid and Dr Md Harun-Ur-Rashaid (IT and Planning Secretary), Dr Moffijul Haque Khan (Shohag) (Press Secretary).
Besides, nine people were also elected Executive Committee Members. They are- Dr Md Mahbub Morshed Tomal, Dr Md Shaiful Azam Sazzad, Dr Madhurima, Dr Nazneen, Dr Tofazzel Hossain Rana, Dr Nasir Hossain, Dr Md Hasib Uddin, Dr Md Abbas Uddin and Dr Mirza Mahiduzzaman.