'Within reach': Poland opposition to hold anti-govt election rally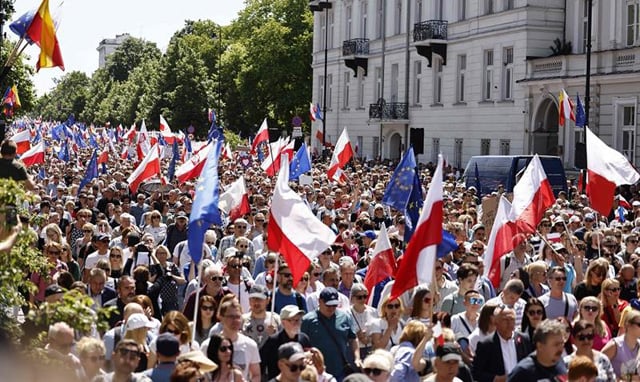 WARSAW, Oct 1, 2023 (BSS/AFP) - Polish opposition leaders are hoping to gather more than a million people in Warsaw on Sunday to oppose the conservative government ahead of polls on October 15.
Called by former premier and head of the centrist Civic Coalition bloc Donald Tusk, the rally will seek to mobilise the electorate for the crunch vote.
"They won't intimidate us, they won't shut our mouths. It's essential that the whole of Poland sees that no one is afraid of them anymore," Tusk told supporters on Thursday.
Tusk said Sunday's march would mark "one of the biggest events" in Poland's modern history as he seeks to dislodge the ruling Law and Justice party.
Lech Walesa, a former Polish president, Nobel Peace Prize winner and leader of the fight against communism, said he planned to march, along with the leaders of some other opposition parties.
"We know what (the ruling party) fears the most -- the cooperation within the opposition," said Wlodzimierz Czarzasty, a co-leader of the New Left party.
- 'Blatant theft' -
The ruling party, which frequently clashes with the EU and faces accusations of undermining the rule of law, holds a comfortable lead in polls, with around 35 percent of voting intentions according to IBRiS polling.
The Civic Coalition opposition alliance has long trailed in second place, with 27 percent of voting intentions in the IBRiS poll.
But according to Tusk, internal polls commissioned by his own party show that the Law and Justice party's lead has narrowed to just two percentage points.
"The opportunity is within reach, nothing has been decided yet," Tusk told his supporters as he addressed crowds in Elblag, northern Poland, promising to hold the current authorities accountable following the vote.
"Many of them will go to jail for blatant theft, for violating the law and the constitution," he said.
Law and Justice leaders will hold their own rally in the southern city of Katowice on Sunday.