Anisul for materializing Bangabandhu's 'Sonar Bangla'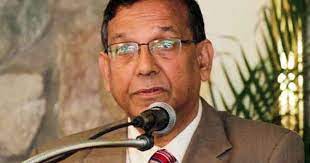 DHAKA, Sept 28, 2023 (BSS) - Law, Justice and Parliamentary Affairs Minister Anisul Huq today called for materializing the dream of Father of the Nation Bangabandhu Sheikh Mujibur Rahman 'Sonar Bangla' to show respect to pro-people leader and Prime Minister Sheikh Hasina.
Her life and struggles will be properly evaluated and honored if Bangladesh will be built as 'Sonar Bangla as dreamt by Bangabandhu, he said.
The law minister was addressing a discussion organized by Bangabandhu Awami Ayinjibi Parishad at the South Hall of the Supreme Court here marking Prime Minister Sheikh Hasina's 77th birthday, a press release said.
Lauding the premier's ability to develop the country, he said Prime Minister Sheikh Hasina always keeps her words and in continuation of that Padma bridge has been built with the country's own fund facing various domestic and foreign conspiracies.
Sheikh Hasina has raised the heads of the Bangalees high before the international arena, he added.
Talking about the G20 Summit's 'selfie', he said that Prime Minister Sheikh Hasina's 'selfie' was not taken with US President Joe Biden at the G20 Summit in India rather it was America's 'selfie' with Bangladesh.
Supreme Court Bar Association Secretary Abdun Nur Dulal conducted the discussion with Bangabandhu Awami Ayinjibi Parishad Convener Yusuf Hussain Humayun in the chair.
Mayor of Dhaka South City Corporation (DSCC) Barrister Sheikh Fazle Noor Taposh, Awami League Legal Affairs Secretary Advocate Najibullah Hiru and President of Bangladesh Supreme Court Bar Association Momtazuddin Fakir also spoke, among others, on the occasion.