Maizbhandar Darbar stages grand 'milad' to celebrate Eid-e-Miladunnabi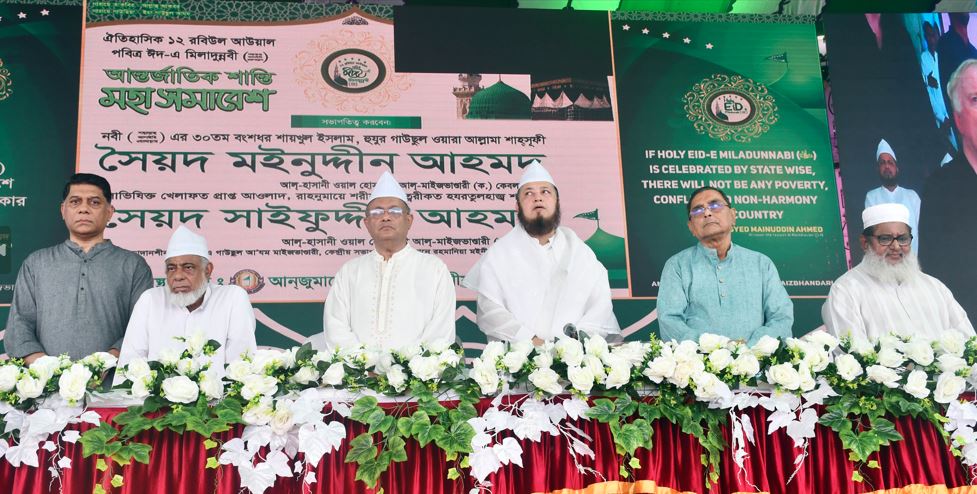 DHAKA, Sept 28, 2023 (BSS) - The spiritual hub of Mazhbhandar Darbar today staged a grand 'milad' preceded by a colourful street march and followed by a discussion joined by tens of thousands of people, including senior politicians, as part of nationwide celebration of the Holy Eid-e-Miladunnabi.
The mammoth gathering paid rich tributes to Prophet Mohammad (PBUH) with singing songs of praise for him while designated discussants explained significance of his ideals and core Islamic values of inclusiveness and fraternity and their relevance in contemporary Bangladesh as elsewhere in the world.
Anjuman-e-Rahmania Maizbhandaria, an affiliate of the Darbar, named after great Sufi saint in contemporary period Syed Moinuddin Ahmed Miaizbhandari, organized the event at Suhrawardy Udyan, while the participants staged the parade marching from Shahbagh to Matsya Bhaban before assembling at the venue.
Incumbent leader of Mazibhandar Darbar Syed Saifuddin Ahmed Maizbhandari chaired the rally addressed by politicians, including Liberation War Affairs Minister AKM Mozammel Haque, Information and Broadcasting Minister Dr Hasan Mahmud, Bangladesh Workers Party President Rashed Khan Menon and Awami League Presidium Member Shajahan Khan.
Other political figures who spoke were: AL Dhaka South City unit's acting President Advocate Md Nurul Amin Ruhul, MP, Bangladesh Islami Oikya Jote's chairman Misbahur Rahman Chowdhury, Bangladesh Supreme Party's (BSP) acting Secretary General valiant freedom fighter Advocate Md Abdul Aziz, BSP Additional Secretary General Baki Billah Azhari, National Awami Party (NAP-Bhasani) Secretary General Khaled Shahriar, Bangladesh Janadal (BJD) Chairman Mahbubur Rahman Joy Chowdhury and Sher-E-Bangla AK Fazlul Haque's grandson Fyazul Haque Raju.

AKM Mozammel Haque said Prophet Mohammad (PBUH) is the nucleus of the entire physical and abstract creation and for him almighty Allah created the entire universe and "I pay Darud and Salam to him".
"We pray to Almighty Allah seeking our protection from elements who misinterpret the Holy Quran, mislead the people by spreading falsehood about Islam, and don't show respect to the spiritual leaders through whom Islam entered our country," he said.
Haque said the so-called Islamic puritans known as Wahabis which in other ways paved ways for religious extremism and terrorism and followers of Maududism do not respect the spiritual figures who actually carried with them the Islamic teachings of peace and harmony following the footsteps of Prophet Mohammad (PBUH).
Dr Hasan Mahmud said no conspiracy can thwart the next general election as it will be held on time as per the constitutional provision.
Noting that different conspiracies are being hatched over the next election, he said it is never possible to implement any orchestrated plan to foil the country.
Hasan said different conspiracies were hatched during the 2014 general elections and BNP-Jamaat clique had claimed the government would not sustain but the AL-led government completed its full five year term successfully.
Conspiracies were also hatched during 2018 general elections but AL-government is going to successfully complete its full five years term within several months.

He said the upcoming polls will be held on time despite all conspiracies of BNP and Jamaat. Many political parties, including today's host organization-Bangladesh Supreme Party, as well as people will take part in the election whether BNP joins or not, he added.
Rashed Khan Menon said the followers of Wahabism had stopped celebrating the Eid-e-Miladunnabi in Saudi Arabia, "But it is the matter of happiness that the Miladunnabi is now being celebrated again in Saudi Arabia to properly show respect to the Holy Prophet".

He said Islam made its way to this part of the world as elsewhere through Sufi saints who were adored by the people for generations together but "a group of 'alems' is emerging with a different idea creating divisions among the Muslims".
"We are offering Milad with a standing ovation to the Holy Prophet since our childhood, they are now labeling it as 'bida'at' (or deviation of Islam) . . . I urge all to remain aware about them. They are the enemies of Islam," Menon said.
Shajahan Khan said Islamic values calls for love for country and those who do not love the country actually do not follow the instruction of Islam.
Referring to BNP-Jamaat's atrocities carried out between 2012 and 2014, he said according to a hadith one cannot be a Muslim if other people are not safe in his hands.
"So, those, who are attired in religious dress, but Islam is not in their mind they can never be Muslim. And they are the Jamaat," he added.
The grand milad was offered at the middle of the discussion when the entire crowd along with the discussants paid their tributes to the Holy Prophet with a standing ovation.
"Allah sent Prophet Mohammad (PBUH) as the biggest blessings for the whole creation. We are marching towards peace and equality following his ideals," said Syed Saifuddin Ahmed in his presidential address.
"Those who have love for Prophet (PBUH) can never be militants or extremists . . . we want to establish Prophet's (PBUH) ideals in personal and family life," said Saifuddin Ahmed who also conducted the munajat marking end of the function.
He explained Prophet Mohammad's (PBUH) mission - social reform and establishment of peace by shunning extremism, arrogance and brutality across the world.
Ahmed is newly formed BSP's President and Chairman of Liberal Islamic Jote alliance.