Eid-e-Miladunnabi observed at Azimpur Dayera Sharif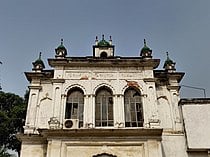 DHAKA, Sept 27, 2033 (BSS) - A 12-day Eid-e-Miladunnabi programme concluded at the century-old Azimpur Dayera Sharif in the capital on Wednesday.
According to the tradition spanning 263 years, this observance began on the first day of the Arabic month of Rabi' ul-Awwal and continued until the 12th of the month.
The religious event was celebrated with a discussion on the life of Prophet Muhammad (PBUH) and recitations of durud, zikir, and doa, said a press release.
The present custodian of Azimpur Dayera Sharif and spiritual leader, Shah Sufi Sayed Alhaj Hazrat Maulana Enamullah Zuhaer, conducted the proceedings of the 12-day event.
He also led the final supplication at the congregation attended by nearly ten thousand devotees.
Among others, Shah Sufi Sayed Alhaj Assem Billah, Maulana Abdul Majid Deowan and Mufti Mizanur Rahman Rayhan took part in the discussion.
Prayers were also offered for the well-being of all the descendants of Hazrat Shah Sufi Syed Mohammad Dayem (R), who founded Azimpur Dayera Sharif.
A special prayer was offered for late Maulana Shah Sufi Sayed Ahmadullah Zobair, the immediate past pir of Dayera Sharif, who passed away recently.
Prayers were extended for the progress of the country and the overall well-being of the Muslim Ummah.