AL will remain in power as long as people want: Matia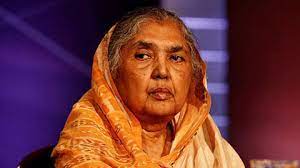 SHERPUR, Sept 27, 2023 (BSS) - Deputy Leader of the Jatiya Sangsad (JS) and Awami League (AL) Presidium Member Matia Chowdhury today the party-AL will stay in power as long as the country's people want.
"AL will stay in power as long as the country's people want. We will not bow down our heads to the foreign evil-forces. We are accountable to the people of the country," she said.
The veteran AL leader was addressing a cheques distribution programme of the Mujib Shoto Borsho at Nalitabari and Nakla Upazilas here.
Matia further said that anti-liberation evil-forces are plotting against Awami League at home and abroad. They are trying to distract the country's development spree through their conspiracies, she added.
She urged all party leaders and workers to remain united to stand against these conspiracies.
With Upazila Nirbahi Officer (UNO) Khristfar Himel Richil in the chair, the programme was attended, among others, by Deputy Commissioner Abdullah Al Khairum, Police Superintendent Monalisa Begum, Municipal Mayor Abu Bakar Siddique, Upazila unit of AL President Mustafa Kamal, General Secretary Waz Karuni and Joint General Secretary Farooq Ahmed Bakul.