Migrant arrivals set rhythm of life on Lampedusa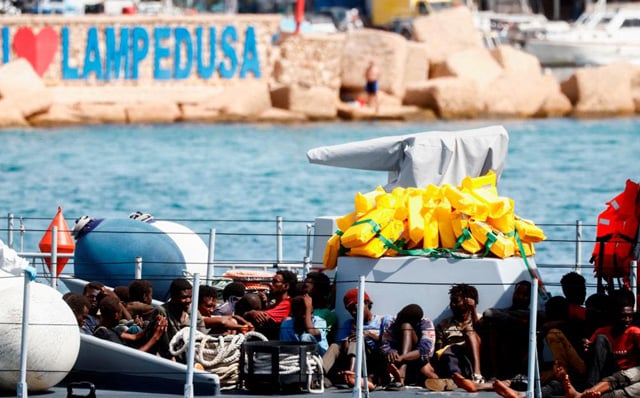 LAMPEDUSA, Italy, Sept 27, 2023 (BSS/AFP) - Rough seas have bought the Italian island of Lampedusa a moment of calm, but rescue workers are readying for fresh migrant boats, expected as soon as the weather turns.
This tiny tourist destination off the coast of North Africa, famed for its coves and crystalline waters, has become a symbol of boat arrivals, as European states bicker over responsibility for asylum seekers.
Almost 8,500 people landed in just three days earlier this month, part of a steep rise in Mediterranean crossings that Europe's far-right has declared an "invasion".
As holidaymakers lazed on sunbeds, thousands of migrants bedded down on metal cots set up in and around the reception centre, a prefabricated building behind high fences that has room for 400 people.
Poor weather conditions off Tunisia and Libya have since grounded the boats that carry mostly sub-Saharan Africans across to Europe, but the 6,500 or so inhabitants here know more will soon follow.
As do the aid workers. Serena Corniglia, spokeswoman for the Italian Red Cross, which runs the centre, says they are determined to make sure they have enough stock after running short last time.
The workers are "equipping ourselves with more (first aid) kits and more food so that we don't get caught unprepared", she told AFP.
While most of the migrants who landed recently have already been transferred to the mainland, around a hundred minors who crossed alone are receiving special support.
"We have specialised operators and volunteers... with whom they carry out specific activities, checking in particular that they don't need additional health or psychological support", she said.
- 'Propaganda' -
Italian far-right Prime Minister Giorgia Meloni, elected a year ago on a strongly anti-migrant platform, was forced this weekend to admit that she had hoped to do "better" on stopping boat arrivals.
More than 133,000 people have landed so far this year, compared to nearly 70,000 in the same period last year -- despite Meloni's measures, which have included restricting the efforts of charity rescue ships.
Felix Weiss, from the German charity Sea-Watch, said a law brought in by this government which prevents ships from performing multiple rescues was actually costing lives.
"Since Giorgia Meloni came to power, we have seen the highest number of deaths since 2016, with almost 2,500 people drowning this year in the central Mediterranean", he told AFP.
"Our ships are blocked in ports, which is incredible when you consider the number of migrants that need to be rescued," he said.
"The Italian government's racist migration policy... is failing completely, because the numbers are rising."
Tourists strolling among the bars, restaurants and souvenir shops on Lampedusa's pedestrian shopping street said the islanders' generosity towards those in need should be a lesson for Europe.
Marco Franciosi, a 57-year-old tourist from Turin, slammed the "propaganda" of politicians as he stood in front of the Gateway to Europe, a sculpture erected in memory of migrants who perished at sea.
The arrivals are "really very insignificant" compared to the population of Europe, his partner Monica said, adding: "If the whole of Europe collaborated, it would be nothing."
"We are all migrants. In the history of our families, there is always a history of migration", she said.
"There's no reason to be afraid, no one is invading us".