Roadmap to democracy will be set as per people's opinion: Quader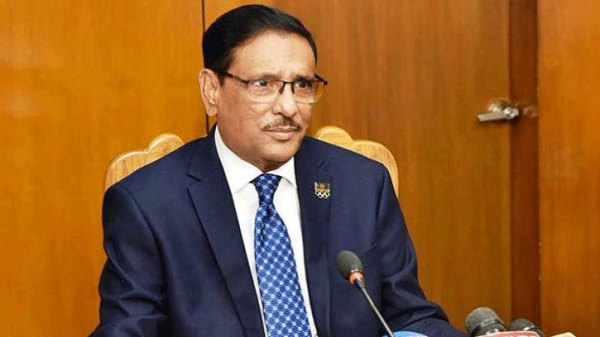 DHAKA, Sept 24, 2023 (BSS) - Awami League General Secretary and Road Transport and Bridges Minister Obaidul Quader today said the roadmap to the country's democracy will be set on the basis of people's opinion.
"The people will resist any kinds of local or international conspiracy of creating any obstacle in holding national election," he said in a statement on contemporary politics.
Noting that AL is respectful to democratic values, Quader said they are firmly determined to hold a free, fair and peaceful national election.
AL has been running the government keeping trust in people as people are the main strength of the party, he added.
Mentioning that AL doesn't care any visa policy or sanctions, he said visa policy of any country cannot put any effect election and democracy of Bangladesh.
Coming down heavily on BNP, Quader said their political opponent is politicizing the party chief Begum Khaleda Zia's treatment issue.
BNP should keep in mind that they couldn't free their leader through any movement rather Prime Minister Sheikh Hasina showed humanity to Khaleda, a convict in graft cases, by allowing her to stay at home on health ground and receive treatment as per her own wish.
Because of the generosity, BNP leaders should be thankful to the premier but BNP is making evil attempts to mislead the people over Khaleda Zia's health issue and making unlawful statements while doing politics over the issue, he said.
Without keeping respect to democratic political culture, BNP is attempting to make the state machinery ineffective forcefully to realize their demands in fascist style, he said.
Quader urged BNP leaders to take preparations for the elections shunning the path of conspiracy of creating a political crisis in the country.
BNP should come out from the orchestrated motive to divide the nation, he said.
He urged BNP to contest the election as the people will decide who will run the government.
Otherwise, they will be held responsible for destroying the people's democratic values, he said.
If BNP wants to make any kind of attempts to thwart the polls, they will be dealt accordingly, he said.