Decision taken to resolve birth, death registration problems within 7 days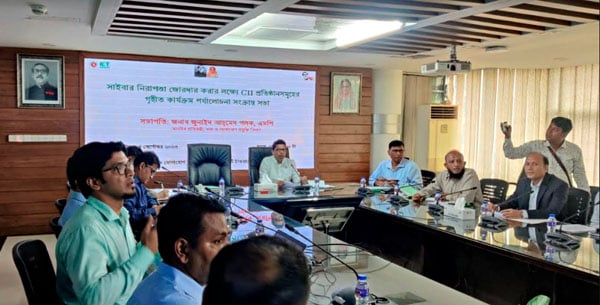 DHAKA, Sept 24, 2023 (BSS) - The Birth and Death Registration Office authorities have been directed to resolve issues in Application Programming Interfaces (APIs) used on the website of the office within the next 7 days and send a report to the Digital Security Agency (DSA) in this regard.
The directive was given at a review meeting on the initiatives taken by the 34 CII institutions to strengthen the cyber security at the conference room of the Information and Communication Technology (ICT) Division in the city today, said a ICT Division press release.
State Minister for ICT Zunaid Ahmed Palak chaired the meeting.
The meeting decided to hold a special meeting on cyber security involving chiefs of Critical Information Infrastructure (CII) institutions with Principal Secretary to Prime Minister in the chair so that the site (birth and death registration) can be fully active from the beginning of October.
In the meeting, decisions were also taken to send letters from DSA (NCERT) of ICT Division to the other ministries to ensure cyber security, take necessary measures to establish Cyber Security Design Lab in each CII and DSA (NCERT) should inform provide technical guidelines to all CII institutions for formation of Cyber Security Design Lab (CSDL) within the next seven working days.
It was decided to send the relevant information to DSA within the next seven working days as per CII guidelines, inform the DSA about how it can help in ensuring the security of CII and if it has any weaknesses and give instructions to take necessary steps to increase technical manpower at all CII institutions.
The meeting suggested taking initiatives so that the technical officers of CIIs take appropriate training on cyber security and international standard certification.
In the meeting, various cyber security issues, including increasing allocation for ICT sector, regular IT audit activities, formation of Security Operation Center (SOC) and Network Operation Center (NOC), were discussed in detail.
Bangladesh Computer Council (BCC) Executive Director Ranajit Kumar, DSA Director General Abu Sayed Md Kamruzzaman, Personal Secretary to ICT state minister Md Mushfiqur Rahman, Bangladesh Government's e-Government Computer Incident Response Team (BGD e-GOV CIRT) Project Director Engineer Mohammad Saiful Alam Khan and representatives from the 34 CII institutions were present at the meeting.