Next polls to be held as per constitution: Hanif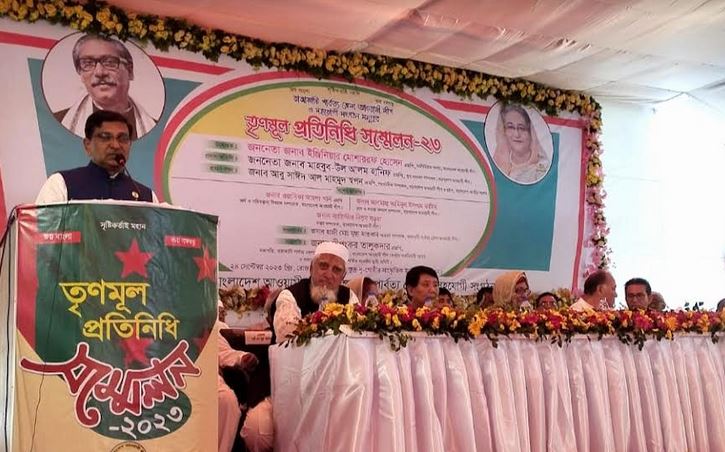 RANGAMATI, Sept 24, 2023 (BSS) - Awami League (AL) Joint General Secretary Mahbub-ul Alam Hanif today came down heavily on opposition BNP for its false statements over polls, reiterating that the next general elections will be held as per the country's constitution.
Pointing to BNP Secretary General Mirza Fakhrul Islam Alamgir, he said:"The current AL-led government is elected by the people and it is not so easy to oust it. The next election will be held abiding by the constitution of the country."
He said these while addressing the grassroots representative conference organized by district Awami League and its affiliated organizations on the premises of the Institute of Small Ethnic Groups in the district as the chief guest.
AL district unit General Secretary Hazi Md Mucha Matobbar conducted the programme with Chairman of the Parliamentary Standing Committee on Ministry of Food Dipankar Talukdar, MP, in the chair.
AL Finance and Planning Affairs Secretary Wasika Ayesha Khan, MP, Awami League Relief and Social Welfare Secretary Aminul Islam Amin, former lawmaker Firoja Begum Chino and local AL leaders and activists were also present there.
Mahbub-ul Alam Hanif further said that as they have no support of the people, BNP-Jamaat is involved in conspiracy with their foreign masters.
They are conspiring with these foreign masters to disrupt the upcoming national elections, he added.
The people of the country are and will remain united under the leadership of Prime Minister Sheikh Hasina, worthy daughter of the Father of the Nation Bangabandhu Sheikh Mujibur Rahman, he continued.
In the past 15 years under the leadership of Sheikh Hasina, remarkable development has been achieved across the country, but BNP-Jamaat does not see this development as they are jealous seeing this development spree of the incumbent government, he said.