Modern luggage van facilities connected with railways: Sujan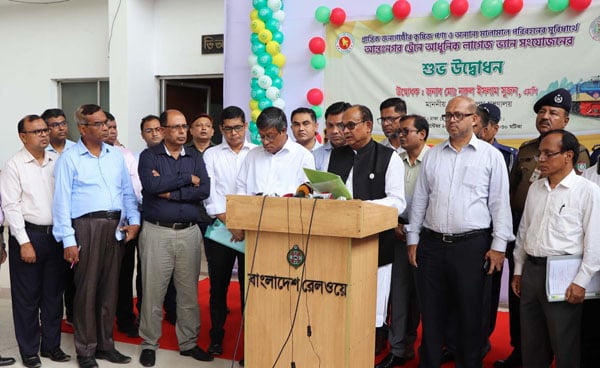 DHAKA, Sept 24, 2023 (BSS)-Railways Minister M Nurul Islam Sujan today said modern luggage van facilities have been linked with railway communications aiming to provide diversified services to the common people.
"Modern luggage van has been equipped with intercity train as fresh vegetables, seasonal fruits, flowers, perishable items like fish, meat, milk and medicine could be transported through the railways", he said.
The minister told this to the journalists before inaugurating the installations of modern luggage vans with Sylhet bound intercity train 'Joyantika Express' at Kamlapur Railway Station here.
Sujan added, development works of Bangladesh Railway are continuously being progressed as per the directives of Prime Minister Sheikh Hasina aiming to turn the railway communications system modern, cost-effective and up to date.
Installations of 16 luggage vans, with the financial assistance from the Asian Development Bank (ADB), would be operated by Bangladesh Railway Transport division.
The installation of the facilities would financially benefitted the farmers to facilitate marketing of their agricultural products by connecting the intercity train services between the capital and other divisional and district towns, said the minister.
"Even the launching of the services would increase the revenue of the railways and also boost the economy of the country", Sujan explained.
The luggage van now will be operated on Dhaka-Jamalpur, Dhaka-Dewanganj, Dhaka-Mohonganj, Dhaka-Kishorganj, Dhaka-Chattogram, Dhaka-Sylhet, Sylhet-Chattogram, Mymensingh-Chattogram, Dhaka-Lalmonirhat, Dhaka-Kurigram and Dhaka-Rangpur routes.
Railways Secretary Dr M Humayun Kabir, Director General of the Railways M Kamrul Ahsan and other railway officials, among others, were present during this time.