US visa policy aims intimidate Bangladesh govt: Menon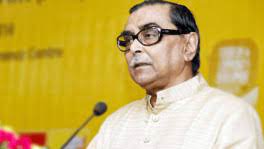 NATORE, Sept 23, 2023 (BSS) – Workers Party President Rashed Khan Menon today said the visa policy of the USA is aimed to intimidate the Bangladesh government.
"Actually the United States is trying to intimidate Bangladesh government to force the country to bow down to them and accept its Indo-Pacific policy to ensure their position in the Bay of Bengal," Menon said.
Menon, a former minister and one of the key figures of ruling 14-party alliance, said this while addressing a memorial meeting on 'Akh chashi Neta' Shahid Abdus Salam at Gopalpur in Natore.
USA couldn't intimidate Bangalees by sending its 7th Naval Fleet in favour of Pakistan against Bangladesh in 1971.
He said the people will ensure peaceful and neutral elections not at the dictation of any country but its own dictum.
Workers Party's Natore district unit President Principal Ibrahim Khalil chaired the meeting while party's central leaders Nur Ahmed Bakul, Piarul Islam, Lokman Hossain Badal and Mizanur Rahman Mizan were present.