Mozammel for posthumous trial of Bangabandhu's killer Ziaur Rahman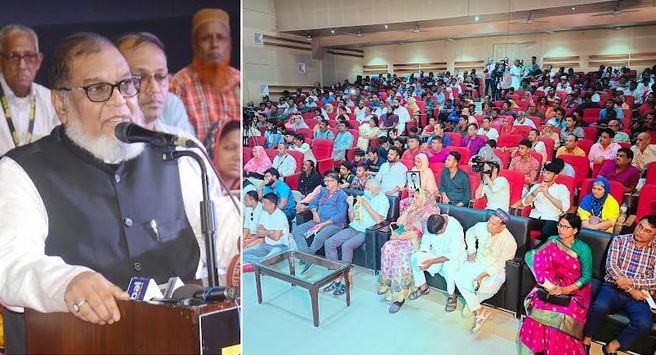 DINAJPUR, Sept 23, 2023 (BSS) - Liberation War Affairs Minister AKM Mozammel
Haque today demanded for posthumous trial of Ziaur Rahman, BNP founder,
military dictator as well as killer of Father of the Nation Bangabandhu
Sheikh Mujibur Rahman.
"Ziaur Rahman started the politics of killing by orchestrated the plan of
assassinating Father of the Nation Bangabandhu Sheikh Mujibur Rahman and most
of his family members. Politics of disappearances, murders and extrajudicial
killings started in this country since the regime of Ziaur Rahman," he said.
The minister said these while speaking at a discussion organised by 'Mayer
Kanna' organization at Dinajpur Shilpakala Academy auditorium here as the
chief guest.
In continuation of the killing activities, Zia's wife Khaleda and his evil
son Tarique Rahman continued the politics of disappearances and killings
without trial, Mozammel added.
Referring to the demands and expectations of the nation, the minister also
said that it is a matter of time to form a commission through the new law to
investigate the arson-terrorism and killings of 1977 and 2013-14.
Speaking as a special guest, Jatiya Sangsad (JS) Whip Iqbalur Rahim
reiterated that Ziaur Rahman started the politics of murder and later,
Khaleda Zia and Tarique Rahman tried to make the country ineffective by
conducting murder and arson attack and creating anarchy in the country
following Ziaur's shown-path.
While presiding over the discussion, Naheed Ezaher Khan, MP, said that the
grave of Ziaur Rahman should be moved from the JS area.
She also demanded for bringing Tarique Rahman back to the country to face the
music for his all those heinous activities.
Lawmaker Ahsanul Haque Chowdhury also spoke on the occasion, among others.