Multistory buildings give new look to Rajshahi city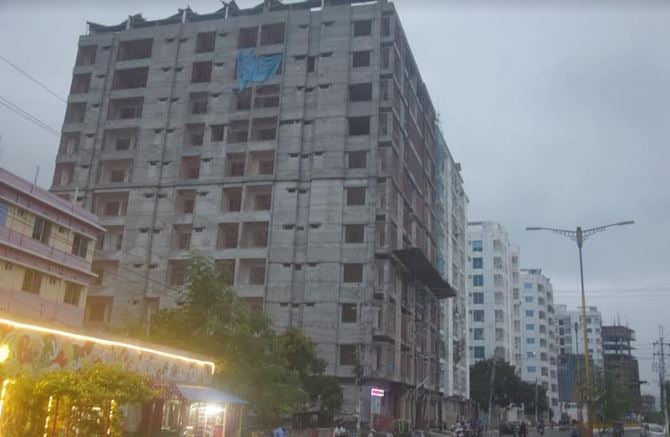 RAJSHAHI, Sept 23, 2023 (BSS)- Scores of newly constructed multistory
buildings have given new looks to the Rajshahi city, vibrating the local
economy during the last couple of years.
Wide roads, conservation of architectural and ancient infrastructures and
green zones have also brought a new horizon to the city.
Many people have got employment scopes as a result of generating job
opportunities in diversified fields in the city and its outskirts during the
last couple of years.

Multistory buildings, including high-rises, have been constructed in the city
during the recent past. Actually, a silent revolution has happened in this
field at present infusing dynamism into the local economy besides improving
living and livelihood conditions of the public in general.

Engineer Abul Kalam Azad, authorized officer of Rajshahi Development
Authority (RDA), said more than 100 high-rise buildings were constructed and
works on many others are progressing fast at present.

He also said each of the construction schemes generated either permanent or
temporary job opportunities for many people, including the educated ones.

After 2009, employment and financial transactions have been increased to a
greater extent in the fields of tiles industries, electronics fittings and
other relevant materials centering the construction sector.

In addition to generating more entrepreneurs the ventures have expanded trade
and business significantly, vibrating the socio-economic conditions.

Masudur Rahman, president of Rajshahi Chamber of Commerce and Industries
(RCCI), said visible and qualitative changes have been attained in the field
of generating employment through boosting the number of entrepreneurs
together with creating an investment atmosphere during the last five years.

Investment from both internal and external has been mounted. Showrooms
belonging to various famous brands were established.

The under-constructed Bangabandhu Sheikh Mujib Hi-tech Park has started
becoming an employment hub for youths creating enthusiasm among the young
generation.

At present, around 400 youths are engaged in various works, including
software development, site maintenance of famous companies and file works as
per demand from abroad, generating working atmospheres in the park.

Bangabandhu Hi-tech Park has become a blessing for her as it has created
scopes of building careers for many youths interested in the IT sector, she
added.

'Tech Rajshahi' has been working to deliver services related to mobile games
and other software.

Mahfuzur Rahman, chief executive of the organisation, said they have 142
workers and 28 of them are working in the hi-tech park.

He said the location of the park along with its modern facilities has
enhanced the brand value of his institution.
The estate has been developed on 50 acres of land at Parila Kechuatoil,
Uzirpukur and Lalitahar areas at Paba upazila that will also help flourish
the industrial sector in the city and its outskirts.

Under the project, 296 plots were created for accommodating 250 industrial
units coupled with generating employment opportunities.

The industrial plots were developed considering the country's socio-economic
condition and future necessity as the entrepreneurs are expanding the SME
gradually in the region.

There are three types of plots. The number of A-type industrial units is 83
having 6,000 square feet each while 89 units are B-type with 4,500 square
feet each and the remaining plots are S-type with the size of 3,500-8,000
square feet.

All sorts of necessary facilities for industrial units including roads,
drains, culverts, water, gas and power supply, boundary wall, pump house,
office and water reservoir will be ensured before handing over the plots to
the entrepreneurs.

Mayor of Rajshahi City Corporation AHM Khairuzzaman Liton said they have
implemented diversified development projects during the last five years.

Bangabandhu Sheikh Mujib Hi-tech Park has been built on around 31 acres of
land in Nabinagar area adjacent to Rajshahi metropolis aimed at establishing
knowledge-based IT industries together with ensuring an area-based
development.

Mayor Liton, who is also the Presidium Member of Bangladesh Awami League,
said Bangladesh Hi-tech Park Authority is implementing the Taka 335.51-crore
project initiated by the Information and Communication Technology Division.

Employment opportunities for around 14,000 youths both male and female will
be created upon successful completion of the project by this year end.