Construction of 50 cyclone shelter centres in Pirojpur to complete by Dec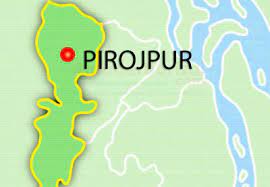 PIROJPUR, Sept 21, 2023 (BSS) - The construction work of 50 cyclone shelter centres will be completed by December in the coastal region and disaster-prone areas of the district aiming to minimize the losses and casualties of natural disasters.
The 50 cyclone shelter centres project is being implemented at a cost of Taka 319.50 crore with all modern facilities. Each centre is being built as a three-storey building and each floor will have an area of 3,410 to 3,618 square feet.

The Local Government and Engineering Department (LGED) is implementing the project with the financial support of World Bank.
The construction work of these cyclone shelter centres started in the financial year 2019-2020 to protect the lives and property of the people in the coastal areas from the violence of cyclones, tidal waves and floods, executive engineer of Pirojpur Local Government Engineering Department Abdus Sattar Hawlader said.
He said, already 75 percent of the work has been completed and the rest of the work will be completed by December this year.
Of the 50 cyclone shelter centres, four are in Sadar upazila, four in Nazirpur upazila, six in Nesarabad upazila, seven in Bhandaria upazila, seven in Indurkani upazila, five in Kaukhali upazila and seventeen in Mathbaria upazila of the district.

The ground floor of the cyclone shelter centres is completely open space. On the 1st floor, there is the provision for keeping cattle and poultry for the residents who would come to take shelter, Hawlader said.

On the 2nd floor 1500 to 2000 women, men and children can take shelter in each centre. It also has modern facilities. There are delivery rooms for expecting mothers, luggage storage and six bathrooms with commodes, he added.

The local residents can conduct various social programs and awareness activities on the ground floor and 1st floor. The victims of natural calamities can do multifaceted activities from here, assistant engineer of the shelter project Md Zia-Un-Nabi said.

Provision of drinking water has been made through submersible pumps and rainwater harvesting. Solar system is being installed for adequate lighting and there is a modern lightning protection system. During normal hours, the 2nd floor of this cyclone shelter centre will be run as a primary school, Nabi said.

He said, the coastal people will be able to save their life and property by taking shelter in the centres from various natural calamities including cyclone and flood.

UP Chairman of Sheikh Matia Union Parishad of Nazirpur Atiar Rahman Chowdhury Nannu expressed his gratitude to Prime Minister Sheikh Hasina for the construction of a shelter in Garghata of the union and said that the people of this area will now be safe from natural calamities.