'This battle is between secular and non-secular forces'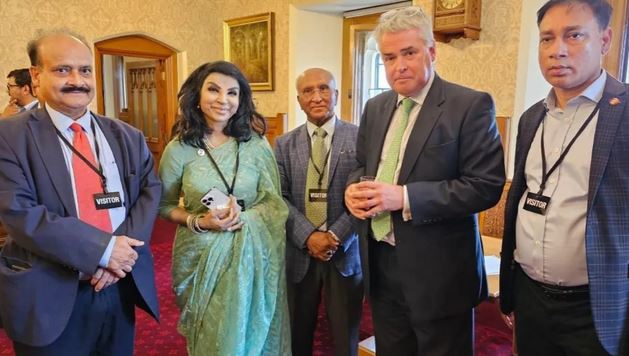 DHAKA, Sept 19, 2023 (BSS) - Underlining the secular aspiration of Bangabandhu and his daughter Prime Minister Sheikh Hasina's continuous efforts to protect rights of all communities; politicians, diplomats and experts said the country's communal harmony was threatened by evil efforts of some Islamist groups in Bangladesh to fuel communalist tensions.
They also underscored the need for remaining vigilant against such evil attempts, said a press release received here today.
"This battle is between secular and non-secular forces. To the United Kingdom, my message is which one do you choose? Of course, [it is obvious]," Bangladesh High Commissioner to the UK Saida Muna Tasneem said adding that "We are pursuing the same values, fostering secular and inclusive societies."
She was addressing an event styled 'Democracy and Human Rights in Bangladesh' in Attlee and Reid Room, House of Lords under the arrangement of the London-based organisation of Bangladeshi immigrants 'Study Circle London' in Attlee and Reid Room, House of Lords.
A cross-party group of leading politicians, as well as diplomats and community leaders attended the talk titled 'Democracy and Human Rights in Bangladesh' held on Monday.
The event was chaired by Lord Daniel Hannan of Kingsclere, who described himself as a "twin of Bangladesh" and spoke of the many trade opportunities offered by the nation.
Prime Minister Sheikh Hasina's International Affairs Advisor Dr Gowher Rizvi, former chair of Bangladesh National Human Rights Commission Dr Mizanur Rahman and Martyn Day MP also spoke.
Timothy Loughton MP, representatives from the Foreign, Commonwealth and Development Office (FCDO), and well wishes were sent from many Parliamentarians in support of the event attended it.
Dr Rizvi said: "I want to issue a reminder that there is a lot still wanting, but we are trying to achieve democracy and development [together]. It is not one or the other."
Keynote speaker Mizanur Rahman said when opportunistic foreign powers bring extremism into the mainstream that puts Bangladesh democracy in peril.
Muna Tasneem also emphasised the strong trade relationship between Bangladesh and the UK.
She also noted Prime Minister Sheikh Hasina and her British counterpart Rishi Sunak's meeting and prominent moment at the G20 Summit in New Delhi.
This was the second meeting between the two leaders, who had also met earlier in the year at the Coronation of King Charles III, the high commissioner noted.
She also said the recent Airbus agreement was of significant importance to the United Kingdom, as Airbus planes are equipped with British Rolls Royce engines.