BNP is out to destroy democracy by creating anarchy: Adv Qamrul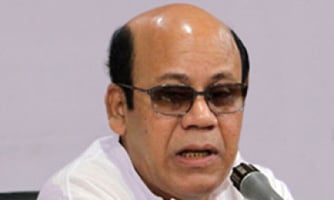 DHAKA, Sept 18, 2023 (BSS)-Awami League (AL) Presidium Member Advocate Qamrul Islam today said BNP is trying to destroy the country and its democracy by creating anarchy.
"BNP is trying to destroy all of our achievements and development. It is also trying to kill democracy. They (BNP leaders) want the caretaker government…they want an unelected and unconstitutional government again," he told a meeting here.
The meeting was organised at Jatiya Press Club on the occasion of the 16th founding anniversary of Awami Muktijoddha Prajanmma League.
Qamrul said the BNP leaders want to change the state power like Ershad-Zia, which is not possible at all.
"They are hatching conspiracy to oust a democratic government. Again, they are trying to establish an unelected government in the country. So, the new generation has to remain alert against this evil force like vanguards," he said.
As per the instructions of BNP acting vice chairman Tariq Rahman, BNP leaders want to make Begum Khaleda Zia minus from politics, the AL presidium member said, "Otherwise, the BNP would have fought for her release, and movement would have intensified. They would have repeatedly approached before court for her release."
Presided over by Muktijoddha Prajanmma League president Asaduzzaman Durjoy, the meeting was addressed, among others, by vice president of Dhaka South City AL Dr Dilip Kumar Roy, Muktijoddha Prajanmma League general secretary Khaja Hossain, its vice president Alamgir Hossain, joint general secretary Ismail Hossain Babu and organising secretary Tarek Ayub.