Tide of development is blowing everywhere: IGP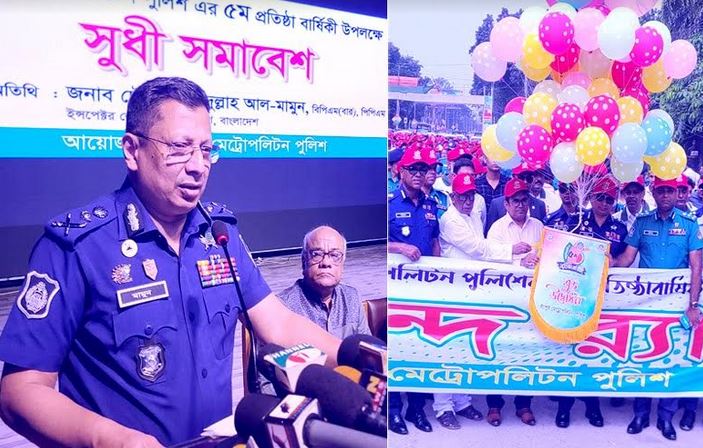 RANGPUR, Sept 18, 2023 (BSS)-Inspector General of Police (IGP) Chowdhury Abdullah Al Mamun today said the tide of development is blowing everywhere in the country under the leadership of Prime Minister Sheikh Hasina.

"As a result of the prevailing peaceful law and order situation and the way the Prime Minister has energized various sectors, a wave of development has been created everywhere. We have to take this trend of development further," he said.

The IGP was addressing a rally organised by Rangpur Metropolitan Police (RpMP) marking its fifth founding anniversary at District Shilpokola Academy auditorium here as chief guest.

RpMP Commissioner Md. Moniruzzaman gave a welcome speech at the rally.

Divisional Commissioner Md. Habibur Rahman, Begum Rokeya University Vice-Chancellor Professor Dr. Md. Hasibur Rashid, Deputy Inspector General for Rangpur Range Abdul Baten, Rangpur Police Training Center Commandant Basudeb Banik, addressed as special guests.

Deputy Commissioner of Rangpur Mohammad Mobasswer Hasan, Superintendent of Police Md Ferdous Ali Chowdhury, President of Rangpur Metropolitan Community Policing Committee, District Council Chairman and former district unit Commander of Bangladesh Muktijoddha Sangsad Mosaddek Hossain Bablu, Convener of Rangpur metropolitan unit of Awami League Dr Md Delwar Hossain also spoke on the occasion.

The IGP said sustainable development requires sustainable security. If there is sustainable security, there will be sustainable peace, if there is sustainable peace, sustainable development is possible.

"We have come a long way towards this goal. As we progressed, our per capita income went from $500 to about $3,000 as development is blowing everywhere," he said.

He said militancy and terrorism started spreading in Bangladesh in a time in the past when 63 districts were simultaneously bombed.

Prime Minister Sheikh Hasina adopted a policy of zero tolerance towards the militancy and terrorism after assuming office.

"The Prime Minister has increased our capacity, manpower and training and digitized the country. We are now capable of eradicating militancy-terrorism. A stable law and order situation prevails in the country today," he said.

He said, "People of Rangpur have always been helping to maintain peace and order in the country. Law and order situation in Rangpur is always good. We give such officers to Rangpur who will understand the emotions of Rangpur."

The IGP said, the main problems of Rangpur city are drugs, gambling and traffic congestion. Apart from drug raids, children should be monitored where they are going and who they are associating with alongside raising awareness of parents and citizens.

The IGP sought everyone's cooperation in building a smart Bangladesh and smart policing in the coming days.

Earlier, the IGP launched the day-long celebration programs by releasing balloons and pigeons in the morning followed by a colorful joyous procession on the streets.

A memoir was unveiled at the end of the cake cutting function.

The IGP distributed prizes among winners of various competitions held on the occasion of the anniversary.

The RpMP donated a car to the Community Policing Forum to speed up its operations in Rangpur metropolis.

Besides, RpMP organized various programs including special traffic service week, anti-drug football tournament, free medical camp, essay writing competition.

Also, an app called 'Hello RpMP' has been launched to establish communication between the city dwellers and the police.