Sujan seeks vote for 'Boat'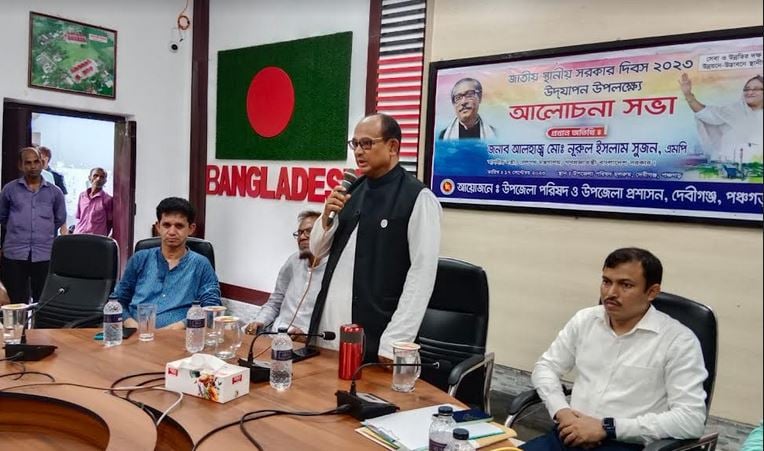 PANCHAGARH, Sept 18, 2023 (BSS) - Railways Minister M Nurul Islam Sujan has urged the countrymen to vote for "Boat", the election symbol of ruling party Awami League, for the unhindered development progress of the country.
"After we gained independence, Father of the Nation Bangabandhu Sheikh Mujibur Rahman gave his utmost efforts to revitalise the economy of the war torn country. His worthy daughter Prime Minister Sheikh Hasina is now working tirelessly, with a vision to transform Bangladesh into a middle income country by 2030," Sujan said on Sunday, while addressing a discussion as the chief guest on the occasion of the 'National Local Government Day' here.
Urging people to stay beside the ruling party, the minister said, "The country's tremendous development in every sector shows how much importance the government has given to the Local Government sector... Vote for Awami League to make her efforts shine, and to keep the wheel of progress moving."
"BNP's demand to set up a caretaker government contradicts with the provisions of our constitutions. They have eve declared to boycott election otherwise. If they really cared about the country, and the people they wouldn't have made such illegal demand in first," Sujan said.
Seeking votes for boat in the next general election, the railways Minister said "Awami League always got its strength from the people. And we hope that the support will continue growing in future."
Upazila chairman Abdul Malek Chistee, Municipality Mayor Abu Bakar Siddik, Barrister Koushik Nahian Navid, upazila Awami League President Gias Uddin Chowdhury were present at the function with Upazila nirbahi officer M. Sariful Alam in the chair.
Earlier, the minister took part a rally on the occasion of 'National Local Government Day' in Boda upazila.